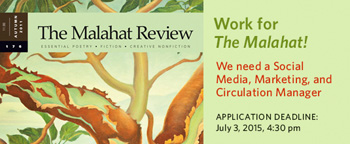 The Malahat Review invites any interested parties to apply for the position of Social Media, Marketing & Circulation Manager. This position is now accepting applications until July 3 at 4:30 p.m.
Individuals who are savvy with technology, social media, MS Office programs, event planning, publicity and who are knowledgeable about the Canadian lit scene are encouraged to apply.
This is a permanent, part-time out-of-service (non-unionized) position, 25 hours/week at $16.75/hour, plus 4% vacation pay, no benefits. Job start date (training, 10 hours per week for two weeks) is late August.
Please note: you must be based in or around Victoria, B.C. (Canada) for this position, as the job requires you to work at our University of Victoria office.
Qualified applicants will possess the following:
Excellent computer skills and ease at working in an electronic environment

Excellent English-language and editorial skills

Excellent communication and interpersonal skills

Demonstrated experience at maintaining websites

Demonstrated experience using spreadsheets

Demonstrated experience at learning new computer programs

Demonstrated social-media skills

Familiarity with Office Suite (Word and Excel) in a Windows environment

Familiarity with Dreamweaver and Photoshop (and other components of Adobe Creative Suite)

Familiarity with WordPress