Liquid (i) city: Vancouver Transitional
A Lansdowne Lecture by Daphne Marlatt
WordsThaw Opening Event
Thursday, February 20, 7:30 p.m. (doors at 7:00 p.m.)
David Turpin Building, room A120 (click for map)
University of Victoria
Admission is free; WordsThaw pass not required
Click here for a map of where to park at UVic
Daphne Marlatt, in this Lansdowne Lecture, celebrates the fluid relationship between language and place—in particular, Vancouver—and how they stream into and out of one another, both of them accruing allusive sediments.
A long-time Vancouver resident, Marlatt has tracked its state of near-constant flux in diverse genres, including poetry, fiction, creative nonfiction, and libretto. In "Liquid (i) city," she will explore these and other questions that spark her long-standing fascination with this city.
Copies of Daphne Marlatt's Liquidities: Vancouver Poems Then and Now will be on sale courtesy of The Malahat Review.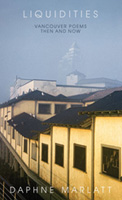 (Marlatt photo credit: Roy Miki)
Learn more about WordsThaw symposium events here.
Presented by

Sponsored by the University of Victoria's Faculty of Humanities