Malahat Monostiches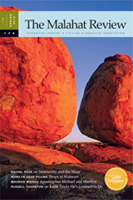 Tweet your pithiest 1-line, 140 character (or less) poems to @malahatreview
The battle of the monostiches begins on June 18 and closes on September 10. Four new books donated by Canadian publishers will be awarded to a semi-finalist every two weeks. On October 1, a special grand prize will be given to the best of the six bi-weekly winners.
Semi-finalists and the grand-prize winner will be tweeted, posted on our website, and announced on Facebook.
Enter as many times as you like!