Have you bought your tickets yet?

Our second annual writing symposium is fast approaching! If you live in the Victoria area, be sure to check out our WordsThaw website for a list of scheduled events and readings taking place February 20-22 at the University of Victoria.
February 20: Vancouver-based writer Daphne Marlatt opens this three-day event with a free Lansdowne Lecture, sponsored by the Faculty of Humanities. More info about this Lansdowne Lecture here.
February 21: Words on Ice: Evolution of the Author will feature writers at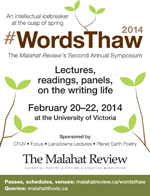 every stage of their career. From high school-aged writers, University writing students, authors without a first book, those who've published a first book, to those with an established writing career. Tickets $10 regular, $5 for students/ Friends of the Malahat. More info about Words on Ice here.
February 22: Pass-holders will have a choice of four panel discussions. From social media to writing local history, the human spirit to the writer as witness, our final day has something for everyone. Advance ticket sales are $40 regular, $30 for students/Friends of the Malahat. More info about this full-day event here.
All WordsThaw pass holders are encouraged to sign up for a complimentary 15-minute critique of their work by an author of their choice! Visit our Brief Encounters page for a list of available authors. Hurry, spaces are limited!
Visit our WordsThaw website for ticket information, interviews, and updates!