2020 Constance Rooke CNF Prize Winner: Christina Brobby
The Malahat Review congratulates Christina Brobby on winning the 2020 Constance Rooke Creative Nonfiction Prize. Her entry, "On Playing Double Jeopardy!" was chosen by final judge Rowan McCandless.
Christina Brobby will receive publication in The Malahat Review's winter 2020 issue #213, and of course, the grand prize: $1,000!
Of Brobby's story, Rowan McCandless said: My selection is "On Playing Double Jeopardy!" I was drawn into this piece by its use of inventive form; that of a hermit crab essay in the shape of the game show, "Jeopardy!" I found the pairing of photographic terms with personal vignettes inventive and compelling. Photography acts as a metaphor for the struggle of being seen while caught under the gaze of others. Heartfelt and hopeful, the author seeks to define herself on her own terms as a Black, mixed-race woman, as a partner in a romantic relationship, and as an individual reclaiming her true self.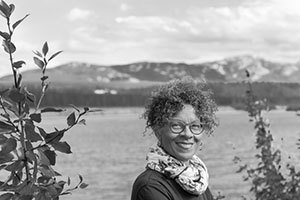 Christina Brobby is a writer and photographer living in Yukon on the Traditional Territories of the Kwanlin Dün First Nation and the Ta'an Kwäch'än Council. She is an alumna of the Humber School for Writers and VONA (Voices of Our Nations Arts Foundation). Her lyric essay, "On Severance and Connection," was a finalist in The Malahat Review's 2019 Open Season Awards in creative nonfiction, and went on to win subTerrain's 2019 Lush Triumphant Literary Award. Other essays appear in online journals and Canadian anthologies including Somebody's Child: Stories About Adoption (eds. Bruce Gillespie and Lynne Van Luven) and Black Writers Matter (ed. Whitney French). Christina's photography has been featured in The Sun magazine and Brevity: A Journal of Concise Literary Nonfiction.
She is currently working on a memoir about finding her first family.
Find her at: https://christinabrobby.com/
An interview with Christina on her CNF Contest win will appear in the January 2021 Malahat lite e-newsletter.
Finalists for the 2020 Constance Rooke Creative Nonfiction Prize:
Lue Boileau "For Sale"
Meredith Darling, "Settlement of Our Legacy"
Sharm Das, "Ganga"
Cameron Spencer, "The Journeymen"
Deborah Graham, "Buttercups at Tiberan"
Terrie Hamazaki, "good daughter"
Reba Kingston, "Freeze Frame"
Barbara Nickel, "Seven Posts"
Alison Pick, "PUSHY"
Linda Trinh, "Gates and Goddesses"
The Malahat Review congratulates all its entrants, and thanks them for their ongoing support of our literary contests and endeavours!