2021 Constance Rooke CNF Prize Winner: Justina Elias
Congratulations to Justina Elias, winner of the 2021 Constance Rooke Creative Nonfiction Prize. Her entry, "To Do" was chosen by final judge Emily Riddle.
Justina Elias will receive publication in The Malahat Review's winter 2021 issue #217, and of course, the grand prize: $1,000!
Of Elias' piece, Emily Riddle said: Of the shortlist, the piece that most struck me was "To Do." The imagery the writer painted so vividly and skillfully described a very particular summer in their life. The way they wrote about the unique intimacy of helping someone out of addiction and of everyday domestic familial happenings was brilliant. I found myself noticing new details and witty tidbits woven into this work the more times I read it. I look forward to reading more from this writer.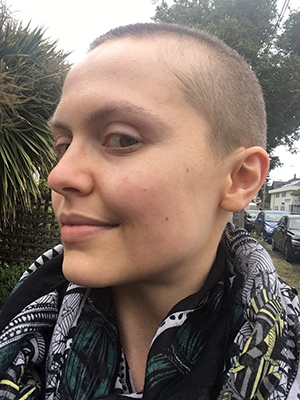 Justina Elias was born and raised in Winnipeg, MB. Her work has appeared in Room Magazine, The Puritan, Sportliterate, and elsewhere. She holds an MFA in Creative Writing from the University of Guelph and currently works at Munro's Books in Victoria, BC.
Keep an eye out for an interview with Justina on her CNF Prize win in the January 2022 Malahat lite e-newsletter.
Finalists for the 2021 Constance Rooke Creative Nonfiction Prize:
Kate Bird, "Archival Record AN1940s"
Amber Boyd, "Picking Up the Crumbs"
Jenna Butler, "Feast"
Michelle Doege, "Siva's Fire"
Adrienne Gruber, "Hunger: Notes to My Daughter"
Conor Kerr, "Blackout"
Ellise Ramos, "I Can Still Taste Her Milk"
Kenneth Wilson, "Populus"
Congratulations to all entrants, and thank you for your ongoing support of our literary contests and endeavours! Thank you as well to Emily Riddle for judging this contest with care and thoughtfulness.