A Personal History:
Rhiannon Ng Cheng Hin interviews
PW Jarungpiterah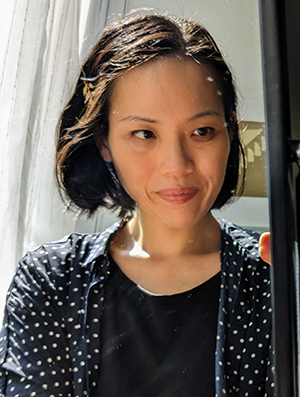 Past contributor Rhiannon Ng Cheng Hin talks with PW Jarungpiterah, whose poems "Grandmother," "Uncle," "Jing Jok," and "In the Cards" appear in our summer issue #223. They discuss how memory plays into poetry and process, the narrow, hypnotic shape of PW's poems, and the plotting and scheming involved in big projects.

Read "Uncle" here.
PW Jarungpiterah is an emerging writer. Raised in Australia, she has lived in Montréal, Kamloops, Ottawa, and Toronto. She is compiling her first poetry collection, a lyrical family montage, set in 1970s rural Thailand. Her work, past and upcoming, appears in the The Ex-Puritan, Ricepaper Magazine, The Malahat Review, and The Antigonish Review.

Each of your poems tends to bring the reader into a very precise, vivid sort of sense memory of moments in a personal history. How does memory play into your poetry and your process? Where does the reader come into that relationship?

Thank you, that's so interesting. I think my poetry is to memory the way historical fiction is to history. I take scraps from personal or collective experience and, using a writer's imagination, build out. Or maybe in. A kind of novelistic imagining (or poetic license?). Though once someone told me that poetry is technically categorized as non-fiction and I felt a bit bad, like a kid caught telling tall tales. But on the other hand, I think all art is highly constructed. We make truth using artifice.

As for readers, there are many access points to someone else's memory through such things as shared experience or universal themes. If no, they can delight in being a stranger in a strange land.
Domestic moments and spaces return in your poetry—an argument across a dinner table, a television advertisement, the images of dimly lit front steps and geckos scaling the outsides of houses. Is there meaning for you in domestic spaces? How do they shape your writing?
I never realized (even though looking now it's very all-encompassing and obvious)! I'm going to offer a post hoc explanation: As a child, I never went outside. I was an only child with working parents in a small two-bedroom apartment. We had a balcony that housed a large family of wasps (I grew up in Australia so they were definitely deadly). My father was too gentle-hearted (or cowardly) to kill the nest, thus rendering even that sliver of the outdoors inaccessible. So I watched a lot of TV, read books, and studied the objects around me with the creepy intensity of small children. Recently, I went through a stack of photos from that period of my life. I remembered every background object in minute detail, down to the crack on the underside of the sunflower-print cereal bowl. A waste of brain space? Yes.

Perhaps the domestic shapes my writing because, for me, the world is constituted of objects. Carlos Williams Carlos, "No ideas but in things." And things are how I experience and process the world, maybe.
"Jing Jok" is so carefully crafted, with its narrow line breaks and visual symmetry that lend to the poem's sense of uneasiness. What is your process for shaping your poems on the page?
I find the long, narrow shape to be quite hypnotic. That's why I chose it for "Jing Jok." I wanted a drowsy, hypnotic mood because it's late evening and we're watching a family watch tv, then we watch what they're watching, then from above, the gecko's watching the family… watch tv. Is he also watching us? Maybe (just look at those creepy lizard eyes!).

I've written quite a few poems in that long, narrow shape. It started out as a self-imposed poetic form, my attempt at applying the principle of "creative limitation" (the idea that constraint fuels creativity). The reason I'm able to write in this shape on a consistent basis might be my process: I don't do drafts in the traditional sense. I instead compose line by line, doing draft versions as I go along before a word or line gets "locked in" like Tetris. No line gets written before the ones before are finalized. It's a slow and painstaking process (please no one else attempt this!). But this process also allows me to more easily control the length and tension of a line in the moment, thus avoiding a headachy knock-down renovation at the end.
Which artists—poets, musicians, painters, or others—have most influenced you as a writer?
I love this question. There is a treasure box of influences (that I'll never live up to): Rita Dove's lucid, charged word choices and jazzy lineation. The semi-fictionalized, intimate third person of "Thomas and Beulah." Louise Gluck's emotional spaciousness and spareness of diction. Her strategic use of Latinate words. Sylvia Plath's towering use of Anglo-Saxon words. Elizabeth Bishop's descriptive grit and unwritten grief. Anne Carson's imagination and humour. Souvankham Thammavongsa's keen, rich vision and nerves of steel. Adam Aitken's heart, cosmopolitanism, and intelligence. Emily Dickinson's subversiveness and love for trimeter and tetrameter. Wallace Steven's precise abstractions. Macbeth's monologues, their associative, moment-to-moment unfolding. Shostakovich's string quartets, the quivering sublimity and dread. Gogol's Ukrainian tales, especially "Viy," the way they inspire terror, tenderness, and otherworldly unease. Gram Parson's heartbreaking sincerity and portraits of domestic tragedy. Dolly Parton's song-writing genius, work ethic, and self-belief. The band Augie March, their pastoral menace and spiritual unease. Mattie Do's "The Long Walk," the beauty and hauntings of the Laotian landscape that's helping me remember my own early childhood in the Thai Isan region. Apichatpong Weerasethakul's films, their pure visual poetry, especially the soundless montage in "Cemetery of Splendour" that directly inspired "Jing Jok," and the portrayal of the Thai countryside as a psychic dreamscape in "Uncle Boonmee Who Can Recall His Past Lives."
Your first poetry collection will be a lyrical family montage set in 1970s Thailand—can you speak more about your collection?
Sure! Though poetry works poem by poem, I find big projects fun and motivating. I love the plotting and scheming. Most of all, I like to pretend I'm a rogue detective in front of the pinboard drawing mind-blowing connections with red string. Projects also stave off the existential panic of not knowing where the next poem will come from.

At the moment, my poetry collection chronicles the journey of a young girl through the shifting socio-political terrain of 1970s Thailand during the Cold War. Equal parts family album, still life, historical rescripting, and folkloric montage, these poems interweave the oneiric psyche of its protagonist with the manifest and spectral surfaces of daily life: a grandfather merges with a ghostly encounter; morning chores transform into a metaphysical fugue; a gecko assumes the role of house guardian; the contents of a woman's vanity present an ominous self-portrait; a stranded tourist portends the death markings of a tarot card; a fish vendor recalls her past lives. Ultimately, my project provides a meditation on the thin veil that divides: domestic/spiritual, history/erasure, gender/non-self, and belonging/self-denial.

Thank you for your thoughtful questions!
Rhiannon Ng Cheng Hin
* * * * * * * *