A Nostalgia-Free Portrait: Anne Hung in Conversation with Rebecca Păpucaru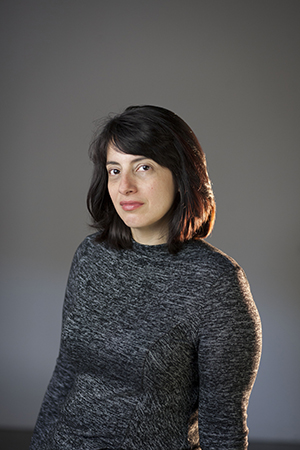 Malahat Review creative nonfiction board intern Anne Hung talks with Rebecca Păpucaru, winner of the 2020 Novella Prize, about her story, "Yentas," which appears in our summer issue #211. Read and excerpt of "Yentas" here.
Rebecca Păpucaru was awarded the 2018 Canadian Jewish Literary Award for Poetry for her first book, The Panic Room, which was also a finalist for the A.M. Klein Prize for Poetry and longlisted for the Gerald Lampert Memorial Award. Her short story "Tropical Conversation" was shortlisted for the Penguin Random House Canada Student Award for Fiction.

"Yentas" has a fascinating narrative structure, with the primary story of Karen's adolescence bookended with an account from her adult life. Did you set out to write in this structure? Or did it develop during the writing process?
I kept rewriting this story, going in circles, until I remembered going to a meditation seminar and meeting a woman who'd bullied me when we were both at parochial school. I don't remember all the details, but I do remember feeling it was a great injustice that this woman was on her way to achieving enlightenment. I cringe when I remember confronting her, although I can't remember what I said but I do remember her laughing it off, saying that people all change, I should let it go, etc. This led to another memory, of attending a stress reduction clinic on my doctor's recommendation, doing mindfulness exercises with strangers. It all coalesced into this image of a woman who encounters a former bully in this clinic where she's gone to get help she desperately needs. I'm not sure if piecing together then altering memories counts as a writing process, but it got me where I needed to go.
You have been recognized in the past for both a book of poems, with The Panic Room, and a short story, with "Tropical Conversation." What made you decide to pursue the novella with "Yentas"? Would you consider writing more in this form?
Full disclosure: I wanted to enter the contest! I was worried about meeting even the minimum word count but the more I wrote, the more room I gave myself to really explore the story, the characters, and the context. I'm still writing short stories but now I'm less fussed about the overall length. I'm okay with the story letting me know when to go on, when to stop, when to condense and when to expand. I'm playing with a few ideas for novellas, too. It's the perfect format for exploring a character's emotional arc while still addressing larger issues, like misogyny and anti-Semitism, as is the case in "Yentas."
The judges describe "Yentas" as "a nostalgia-free portrait of girlhood." How did you first react to that comment? What made you decide to take this raw approach to the coming-of-age story?
I don't really have any nostalgia for that era so I wasn't surprised. It wasn't a conscious decision, however. Ultimately, the point of my story is that if you are taught to hate yourself and others like you, at some point you're going to crack up, which is what happens to Karen and Brandy. In the 1980s no one really questioned the J.A.P. [Jewish American Princess] stereotype, let alone considered the harm it could do. So no, I'm not nostalgic for that era, which happens to be the context of my own coming-of-age, too.
In the grit of growing up, Karen finds solace in some famous works, including The Color Purple and Little Women. Did you have any stories that you turned to as a young person? Do you think they influenced your writing?
I read The Color Purple when I was twelve and I couldn't put it down. I'd never read a book before that wasn't in some form of standard English, and while reading it I sometimes caught myself thinking in Celie's voice! It was my first inkling of the power of literature to take you out of yourself, and I wanted more. Still do. Other books: I loved The Lord of the Flies and Animal Farm, more than I did Little Women. I may have read every novel by Norma Klein, which were marketed as YA but many were for adults, like Give Me One Good Reason, about a woman scientist who wants a baby but not a husband. That one was my favourite; a close second was It's Okay If You Don't Love Me (1977), about a "liberated" Jewish girl's romance with a non-Jewish boy. Her smart, unconventional, often Jewish heroines, and the fact that Klein herself was Jewish, helped counter the J.A.P. stereotypes I was fed. Her work seems to have been forgotten, which is a shame. Someone needs to write an essay or a thesis on her!
Race and racism are described in the voice of the adolescent Karen in "Yentas." The Black Lives Matter movement has brought the discussion of racism to the fore. As an adult today, what was it like writing about a young person's experiences with racism in the 1980s?
As I was writing I kept coming back to this memory. I was in my late thirties, staying at Artscape Lodge on Toronto Island. The place is a bit scruffy and DIY. I remember mice popping out of the toaster, but I really loved being there (apologies to Artscape if the mice are long gone!). I remember one night in the shared kitchen meeting this woman my age in jeans and a flannel shirt, no make-up, and just from her voice I knew she was Montreal Jewish (I talk about the particular cadence of Montreal Jews in my story). I instantly felt about her the same way I felt about most of the girls I'd grown up around: I wanted to distance myself from her as much as possible, prove to everyone I was nothing like her. I also despised her for believing a flannel shirt and bare face would hide her true self which, of course, with my amazing J.A.P. radar, I had detected.
I trained as an actress when I was in my late teens, and more than one teacher advised me to do something about my nasal voice. It wasn't coded; I was told outright that no one would hire me if I sounded too Jewish. This was in the late 1980s. Eventually, I decided acting wasn't for me but I still spent years gauging the nasality of my voice, dressing down and quirky, and generally leading a life I was sure would horrify any J.A.P., including long stays at Artscape, and now here was this princess with dirt under her nails, in my space. I didn't question my feelings at the time, didn't consider what my resentment of this poor woman said about me, about the degree of self-loathing I'd absorbed, not just from non-Jews but from my own community.
COVID-19 restrictions have given many the opportunity to read and write more than we did before. Have you read anything recently that inspired you? Are there any current projects that you're working on?
Right now, I'm reading Guns, Germs, and Steel: The Fates of Human Societies by Jared Diamond and The Mountain Lion by Jean Stafford. I recently read Brief Lives by Anita Brookner, which centres on a complicated friendship between two women and inspired me to continue exploring female friendship in the short fiction I'm currently writing. Female friendship is crucial in "Yentas"; Karen's best friend Brandy becomes her bully, but she's the only person who can reconcile Karen to her full identity, which she does at the end. I'm finishing a story now about a friendship between two women, one recently divorced and in her thirties, the other single and in her early twenties, with the Riot Girl feminism of the 1990s as background. My collection (almost done!) explores female friendships across cultures and generations, and in different historical contexts. My mother had lifelong friendships with other women, which I envy. I also want to give a shout-out to my friends Kathleen Mullin and Zoë Constantinides for their instrumental feedback as I was writing and rewriting "Yentas."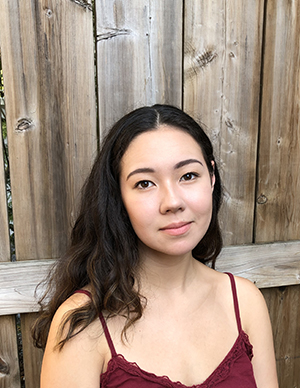 Anne Hung
* * * * * * * *