Fiction Review by Kevin McNeilly

Ahmad Danny Ramadan, The Clothesline Swing: A Novel (Gibsons: Nightwood, 2017). Paperbound, 288 pp., $21.95.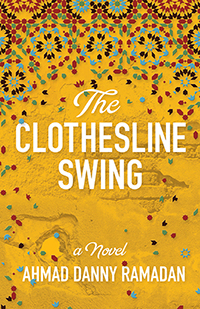 Reading this remarkable, debut English-language novel marks—as it will for many readers—my first encounter with the fiction of Syrian-born Ahmad Danny Ramadan, who has published two notable collections of short stories in Arabic. Ramadan is also the English translator of 1000 Lashes: Because I Say What I Think, a collection of texts by Raif Badawi, currently imprisoned in Saudi Arabia for his anti-government blogging and his advocacy for freedom of expression. The Clothesline Swing is not a polemical or political novel, tending more toward sensuous fiction-making around love, loss, and certain forms of escape; Hakawati, our narrator, at many moments depicts himself as a story-telling escape-artist. His name, he tells us, marks him as "a storyteller, … a fabulist, a writer, a hakawati," an updated Damascene Scheherazade, but gender-flipped and queer, telling tales as a stay of execution, not at the hands of some medieval Shahryār but as a potential casualty of war or as a survivor of gay-bashings. Ramadan's style, despite its sometimes stark subject matter, has a slightly elevated formality reminiscent of another gender-bending raconteur, Isak Dinesen, a self-translator into English of tales about displaced souls; Ramadan's seventeen chapters are each carefully framed narratives, embedding lush, fragmentary stories of Hakawati's past in the novel's present day—a half-century in the future, though this is more rhapsody than speculative fiction—as the writer attends to his dying lover, telling anecdotes of his adolescence or of their formative days in Syria.

The fraught, politicized context of Ramadan's novel is nonetheless significant. Ramadan seeks to translate and even to trouble, through an affecting, warmly seductive, and intimate set of narratives, a refugee's longing for home as an unsettled collision of nostalgia—that is, homesickness—and eros. The stories, like pieces of a sliding puzzle, are out of chronological order: "I was born in my grandfather's house in Damascus," the narrator declares, mimicking the beginning of David Copperfield, but delayed until nearly two-thirds of the way through. That sense of instability and of constant decentering weaves itself through the vestigial plot, as Hakawati tries, by telling, to make sense of his life as a queer Syrian refugee, a displaced and forcibly marginalized person. "My grandfather's house," he notes a few pages after his declaration, "isn't there anymore." Home is elusive, and return journeys—a nostos in Homeric Greek, at the root of the word nostalgia—are no longer possible, even as they constitute a partial and recurrent motif in Ramadan's book. "I'm no one's," Hakawati tells one of his itinerant lovers—a claim that won't exactly turn out to be true, but which nonetheless foregrounds the complexities and ironies of attachment that the book wants to explore. Its pleasurably dislocated structure emerges in response to the unkempt surges of the storyteller's memory: "I surrender to the waves of memories washing over me. My wounds are opened, my fears are running free and the world inside my head is chaotic and slippery."

What Hakawati cannot escape, as he says, is his "own DNA." The refined eroticism of Ramadan's prose emerges through the reconciliation, "still in one body," of what he names "that stranger and I": his suppressed sexuality and his fractured sense of home. The novel begins and (almost) ends with a kiss, moments that both oppose and collapse unrequited longing with close intimacy: "Suddenly," Hakawati tells his lover, "you weren't a stranger anymore," even if the dangers and prohibitions around their love that could not speak its name persistently estrange them from their world, and even from each other. Telling stories, saying the words softly aloud, is not only disclosure, a coming out and a coming into view, but also a form of returned touching, of presence: "'I'm here with you,' I say."

The delicate estrangements of this closeness inform a kind of listening, which is what the novel, I think, ultimately wants to activate in its readers. "What's a storyteller without a listener?" Hakawati asks Death itself, who—along with a series of other spectres and presences—haunts the kitchen and bedroom of their shared Vancouver apartment, reminding us that the stories unfold not as accounts of a lived past but as supernatural delays, as stays against the one final loss—which Hakawati cannot quite bring himself to narrate—of his lover. The poise and power of Ramadan's writing lies in the careful, seductive orchestration of the stories he chooses to tell, and in the deep and lasting empathy for the marginalized and displaced, for the loving and the beloved, to whom he gives voice.