Interpretive Inquiry (ED-B 580)
Wolff-Michael Roth (Lansdowne Professor)
(URL: http://www.educ.uvic.ca/faculty/mroth/580/InterpretiveInquiry.html)
The fundamental philosophy of this course is expressed in Figure 1.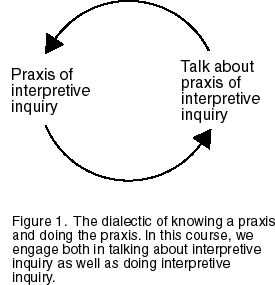 [An alternative figure for representing this course.]
Interpretive inquiry, as any other human practice cannot be learned by talking or reading about it but requires that we participate in it. Thus, even the slightest description of how to collect data or interpret data inherently underdetermines just what you have to do. It is through your own doing that you find the relevance in and of the description.
Take a cookbook recipe as an example. However explicit the recipe, you will find yourself in situations where you do not know what a particular instruction means. It is only through cooking–and sometimes through your knowledge of what the end product is supposed to look like–that you know what an instruction means. Only when you actually are able to do the real thing does the description of it really become meaningful.
So throughout this course, we engage in two types of activities, doing interpretive inquiry and talking about it. These two activities stand in a dialectical and reflexive relation that together constitute each other, that is, interpretive inquiry as an accountable (rather than tacit) research practice.
Resources
Forum Qualitative Sozialforschung/ Forum Qualitative Social Research is an important bilingual e-journal on qualitative inquiry.
The Qualitative Report. An online journal dedicated to qualitative research and critical inquiry since 1990.
A comprehensive listing of internet resources in and on phenomenology can be found here.
Resources for Social Researchers. These links provide you with avenues to sources of information that may prove very useful to sociologists and others interested in social issues or sociological activities.
The University of Victoria library allows you to access a number of educational journals via the internet. [Ejournals]
Readings
Bentz, V. M., & Shapiro, J. J. (1998). Mindful inquiry in social research. Thousand Oaks, CA: Sage. (Available in the bookstore)
Additional texts will be selected from various online sources and on reserve in the Curriculum Laboratory in the MacLaurin Building.
In order to be able to participate in the conversations during our meetings, students (an professor) are expected to have read the selection for the day.
My Philosophy
My research has shown that human knnowing is constituted in participation in authentic activity and changing participation is equivalent to learning. Thus, reading and participating in discussions prepares you to read scholarly articles and participate in scholarly discussions. Doing research prepares you to do research. Listening to lectures prepares you to listen to lectures. (Nevertheless, I will use mini-lectures to share some of my experiences in doing research.) Central to your learning will therefore be active participation, so far as to propose activities or make changes to the course as I have prepared it. It is only when your learning is truly in your hands that the course can achieve its objective, helping you learn.
Assignments
Throughout the course, students will develop and conduct a qualitative research project, including data collection and interpretation. This is a process piece and students will receive feedback from instructor and peers as we go along, so that the final assignment handed in merely constitutes a phase of the project--which students can think as continuing even as the course formally ends. (For example, some of my previous students have turned their course assignments into (inter)national conference presentations or journal articles.) [A sample paper written by a student in a previous course I taught.]
Students read at least two journal articles, which they briefly discuss (10 minutes) using notes/ overheads etc. and analyze with respect to the strengths and weaknesses of qualitative research design.
To achieve an A or A+, students should be prepared to write a near-publishable or publishable paper (see the sample paper), which includes description of research design, literature, etc. To achieve a B grade or less, students will have to show clear deficiencies (faking assignments, evidence of whole or partial plagiarism, etc.), clear evidence of not being prepared for class in terms of readings and assignments.
Process
Each meeting, we will take some time for brief summaries/ presentations by the instructor, whole-class discussions of the readings for the day, and activities related to data analysis and development of project.
I would like to spend some time periodically, to talk about our experience in and of this course and how we can improve what is going on--if and when this is necessary.
I would also like to collect evidence of 'my teaching' for purposes of professional development. For example, in the past I shot a videotape of the class and/ or meetings with students in which we talked about the lessons.
---
Tentative Outline
(The following is a tentative outline and will be modified to meet the [changing] needs of students and instructor. Specific lesson outlines and additional information will be made available in an ongoing manner. You get to the detailed lesson outline by clicking on the date of a lesson.)
Date

Readings, Activities, and Assignments

Week 1

Readings: CHAPTER ONE and TWO

Activities: (1) Introductions, presentations of participants; (2) mini-lecture: Quantitative vs qualitative research, hermeneutics of understanding and explanation; (3) research question for your (ongoing final) writing assignment; (4) student input in the organization and planning of this course.

Week 2

Readings: CHAPTER THREE and FOUR

Activities: (1) Mini-lecture: Interaction Analysis (Jordan, B., & Henderson, A. (1995). Interaction analysis: Foundations and practice. The Journal of the Learning Sciences, 4, 39-103.); (2) discussion of the chapters and article(s) in whole-clsas and small-group sessions; (3) Analyzing video: 'Making quiche'; (4) discussion of student ideas for research projects.

Assignments: Students sketch ideas for a research project to be conducted in the course of this course. Be prepared to talk about your idea.

Week 3

Readings: CHAPTER THREE and FOUR

Activities: (1) Mini-lecture: Interaction Analysis (Jordan, B., & Henderson, A. (1995). Interaction analysis: Foundations and practice. The Journal of the Learning Sciences, 4, 39-103.); (2) discussion of the chapters and article(s) in whole-clsas and small-group sessions; (3) Analyzing video: 'Making quiche'; (4) discussion of student ideas for research projects.

Assignments:

Week 4

Readings: CHAPTER FIVE and SIX

Roth, W.-M., & McGinn, M. K. (1998). Legitimate peripheral participation in the education of researchers. In J. A. Malone, B. Atweh, & J. R. Northfield (Eds.), Research and supervision in mathematics and science education (pp. 215-230). Mahwah, NJ: Lawrence Erlbaum Associates.

Activities: (1) Mini-lecture; (2) discussion of the chapters and article(s) in whole-clsas and small-group sessions (e.g., socialization,supervision of graduate student research); (3) half of the students talk about the article that they read and analyzed as assigment for this class.

Assignments: Students read an article of their choice, which involves a qualitative research design. You should be ready to present the basic outline of the qualitative research design. The best might be to introduce the research problem, the context of research, how the researchers collected the data, and how they interpreted them.

Week 5

Readings: CHAPTER SEVEN and EIGHT

Max van Manen, The Pathic Nature of Inquiry and Nursing: In Madjar, Irena and Walton, Jo (editors). Nursing and the Experience of Illness: Phenomenology in Practice. London: Routledge. pp. 17-35. http://www.ualberta.ca/~vanmanen/pathicinqnurs.htm

Ashmore, Malcolm & Reed, Darren (2000, December). Innocence and Nostalgia in Conversation Analysis: The Dynamic Relations of Tape and Transcript [45 paragraphs]. Forum Qualitative Sozialforschung / Forum: Qualitative Social Research [Online Journal], 1(3).

Activities: (1) Mini-lecture; (2) discussion of the chapters and article(s) in whole-clsas and small-group sessions; (3) half of the students talk about the article that they read and analyzed as assigment for the previous class.

Assignments:

Week 6

(Both sections of Interpretive Inquiry I meet together, as Antoinette Oberg is away. The class will meet in a room to be designated as soon as possible.)

Readings: Be familiar with the Human Research Ethics Form. Click here for the web site with the forms. Read the two ethics applications submitted for discussion: [Ethics Application #1] [Ethics Application #2] [Ethics Application #3]. Read the text on the relation between understanding and explanation: (Ricoeur text)


Activities: Applying for Human Research Ethics; application form; discussion of difficult cases. [Sample Consent form]

Assignments: Students prepare an outline/ sketch of a possible research project so that we can discuss details of the projects as thought experiments for thinking through ethical issues. Students download the guidelines and forms from the Research Administration webpage and have them available during class. These are the two forms: (1) General Guidelines for Completing HREC Forms and Applications and (2) Application for ethical review. Click here for the web site with the forms.

Week 7

FEB 20

(I am away at the Maths into Work conference, Manchester, England; the two sections will meet together with Antoinette Oberg as the facilitator.)

Readings: CHAPTER ELEVEN and TWELVE

Activities:

Assignments:

Week 8

Readings: CHAPTER NINE and TEN

Wolff-Michael Roth, Daniel V. Lawless & Kenneth Tobin: {Coteaching |Cogenerative Dialoguing} as Praxis of Dialectic Method (Abstract German, Full text English)

Glyn Winter, A Comparative Discussion of the Notion of 'Validity' in Qualitative and Quantitative Research. The Qualitative Report, Volume 4, Numbers 3 & 4, March, 2000 (http://www.nova.edu/ssss/QR/QR4-3/winter.html)

Activities:

Assignments:

Week 9

MAR 06

(I am away in Ottawa. Stuart Lee will present details of a large 2-year qualitative research project and moderate discussions.)

THEME: Action research, participatory action research

Readings:

ACTION RESEARCH: EXPLORING THE TENSIONS OF TEACHING In: Newman, Judith M. 1998 Tensions of Teaching: Beyond Tips to Critical Reflection. Toronto/New York: Canadian Scholars' Press/Teachers College Press: 1-24.

Lee, S. H., & Roth, W.-M. (2000). Autobiography and the paradox of change: (Dis)locating ourselves in the process. Research in Science Education, 30, 57-73.

Activities:

Assignments:

Week 10

Readings:

Roth, W.-M., & McRobbie, C. (1999). Lifeworlds and the 'w/ri(gh)ting' of classroom research. Journal of Curriculum Studies, 31, 501-522.

Roth, W.-M., McRobbie, C., & Lucas, K. B. (1998). Four dialogues and metalogues about the nature of science. Research in Science Education, 28, 107-118. (Penultimate version)

Activities: (1) Mini-lecture: Writing research

Assignments:

Week 11

Readings:

Chenail, R. J. (1997, September). Keeping things plumb in qualitative research [37 paragraphs]. The Qualitative Report [On-line serial], 3(3). Available: http://www.nova.edu/ssss/QR/QR3-3/plumb.html

Heath, A. W. (1997, March). The proposal in qualitative research [41 paragraphs]. The Qualitative Report [On-line serial], 3(1). Available: http://www.nova.edu/ssss/QR/QR3-1/heath.html

Dye, J. F., Schatz, I. M., Rosenberg, B. A., & Coleman, S. T. (2000, January). Constant comparison method: A kaleidoscope of data [24 paragraphs]. The Qualitative Report [On-line serial], 4(1/2). Available: http://www.nova.edu/ssss/QR/QR3-4/dye.html

Activities: Presentation of research article by one-half of class

Assignments: Students read an article of their choice, which involves a qualitative research design. You should be ready to present the basic outline of the qualitative research design. The best might be to introduce the research problem, the context of research, how the researchers collected the data, and how they interpreted them.

Week 12

MAR 27

(I am away at the NARST 2001 conference, St. Louis, MO; we attempt to make up this class through lengthening of each meeting.)

Readings:

Charles W. Tolman. On Doing Psychological Research from the Standpoint of the Subject. Paper presented in the Faculty of Education, November 1999.

Activities: n/a

Assignments: n/a

Week 13

APR 03

Readings: none

Activities: Presentation and discussion of ongoing projects

Assignments:
---
Maintained by Wolff-Michael Roth, January 2001