15 SQUASH WARM UPS AND INTRODUCTORY ACTIVITIES
---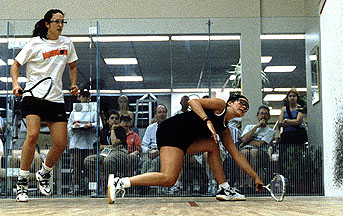 An effective warm up is essential for all activities taught in Physical Education. There are many qualities of a warm up such as the ability to interesting and motivational, to be quick and easy to organize, to have minimal set up, to blend different approaches to fitness, and to incorpirate a gradual increase in intensity. The different appproaches to fitness can be summarized into various categories such as teacher led or student led warm ups (lead the class), partner tasks (partners work on a set of tasks together), minor games, aerobics, group tasks (something the whole class will do together), general fitness circuits or stations, and fitness blasts (skill component blended with aerobics). A warm up will increase blood flow to the muscles and exercise flexibility in joints through active stretching incorpirated in a warm up. The warm up has the ability to set the tone for the entire lesson and engage studetns so they are excitited to learn.
WARM UP # 1 - HAND SQUASH OR WALL BOUNCE
- Students will use the squash court as the boundaries for this game
- The object is to throw a tennis ball against a the front wall and have the other partner
catch it after or before it bounces once
- Ideally the game is played in partners, but can be player with more than two people
and there can be teams
Modifications
- To increase the difficulty ask students to use combinations of different walls (as long as the
ball always hits the front wall also)
- Use a bigger or smaller ball (to make easier use a volleyball, to make task harder use a
squash ball)
WARM UP # 2 - OFF THE WALL
(ADAPTED FROM BADMINTON UNIT PLAN - PE 352 - HAWLEY ANDERSON)
- Students are put into groups of 4-5
- Each student in the group has a racquet, and the group has one ball
- The groups line up in front of a wall or n squash court (one behind the other)
- The first person hits the ball against the wall with a designated stroke, and then
runs to the end of the line
- The second person in line then hits the ball as it comes off the wall (ball can bounce
once), and then runs to the back of the line, then the third person in line goes and so on
- The object is to try to keep the ball going as long as you can
- The teacher can change the stroke that groups are using, and also time the groups to see
how many successful hits they can get in a certain time
- This drill works on accuracy, force, consistency, and speed
Modifications
- Instead of using racquets students can throw and catch to make easier (still works on
above factors such as accuracy, force, consistency, speed moving to space)
- Less or more people in group, more would be easier, less harder by increasing the
amount of work each person is doing
WARM UP # 3 - THE CASTLE GAME/BOX GAME
- Students participate in warm up with a partner
- Each set of partners will get a small gid or a square in a squash court or gymnasium
- Square can be set up with cones or using naturally occurring lines in court
- Size of square approx. 10 feet by 10 feet
- Partners will bounce the ball and have their partner retrieve the ball after the bounce
by catching the ball
Modifications
- Instead of using hands students can incorpirate racquets into warm up where students
can hit the squash to the ball and have another student move to the ball after a bounce
- With original drill, have partners toss the ball in the air and catch it with no bounce
- Instead of catchign ball, students can bat or volley it with their hand
WARM UP # 4 - MIRROR YOUR PARTNER
- Students will engage in an active warm up that will involve mirroring
what their partner does
- One partner will be designated the leader, the other the follower
- Actions may include lunges, push ups, jumping jacks, knee bends etc.
- The premise is to challenge your partner to keep up
- The activity will be timed for approx. 30 seconds, then partners will switch roles
Modifications
- A bean bag or ball may be used and partners can pick up or bounce the objects
WARM UP # 5 - FIND A CONE
(ADAPTED FROM BADMINTON UNIT PLAN - PE 352 - HAWLEY ANDERSON)
- Each student gets a cone and places it somewhere within a designated area (Squash court
or gym)
- When the teacher says 'go' the students run to find another cone; once at a cone
they must do a two foot straddle over it , and then continue to another and do the same thing
- 2 people cant be at the same cone
- When teacher says stop everyone must get to a cone?
- Students can help each other to find a cone
- Teacher times to see how long it takes everyone to find a cone
- Work on getting low, agility etc.
WARM UP # 6 - FITNESS/TASK STATIONS
- There will be a number of fitness stations where students will complete tasks
- 4 or 5 stations will be set up with various components such as (push-ups,
jumping-jacks, lunges, crunches)
- Deck of cards or cards with numbers will be in a centre area
- Students will choose from the deck of cards after completing a station and that will
dictate what station they will go to next (ex: hearts is the push up station, and the card is
an 8 therefore they must do 8 push-ups)
- Partner tag - in a large group of people (you can only tag your partner) within boundaries
where everyone is playing
- Partner vs partner tag - you link arms with your partner and challenge another set
of partners (you can only tag who you are challenging) within boundaries where everyone
is playing
- Frozen tag - once you are frozen you must be rescued by someone who isnt it or hasnt been
tagged (this can be done by either by touching individual or passing under their legs or
something else inventive)
- Blob tag or monster tag - One person is it and when they tag another individual they must
attach themselves to that individual (ex: by linking arms) the blob or two people must now
try to tag others,who when tagged must also link arms. Eventually a large blob of people
move around trying to tag the remaining players in the game
- Divide class into two teams, with one team flipping the cones one way, and the other team
the opposite (ex: facing up and facing down)
- This activity is a challenge to see which teams can flip the most cones in a time limit
- Players cannot stand at a given cone and flip it more than once, but must actively move
around
WARM UP # 9 - DISTANCE HITTING AND BALL CONTROL
- Players start by hitting the ball from the service box to the front wall
- Players slowly move forward to the front wall by continiously moving forward
- Once you reach the wall and are very close, reverse what you have just accomplished
and move back towards the service box while continuing to hit the ball
- This drill not only controls the pace of the ball but also the height
- A player must always adapt their shot adn naturally move slower and hit a slower paced
shot in order to compensate for distance
Modifications
- Challenge students to try this with different walls as well
- Students can also do this with different racquet strokes (ex: backhand)
WARM UP # 10 - ACCURACY HITTING
- Start by yourself and find a spot on the floor and with a racquet continously hit to that spot
- By repeating this action a player will improve accuracy, racquet control and hand eye
coordination
- Once player are comfortable with this skill they may get with a partner and do the same
action but hitting back and forth by hitting it to the floor first with a bounce
- Challenge partners to compete to see who can hit the most times vs other partner pairs
WARM UP # 11 - DOUBLES SQUASH MINI GAME
- Have players particpate in a mini game of Squash to 3
- Scoring only occurs if the team has service
- Players play in groups of 2 vs 2
- Players must alternate shots within pairings
Modifications
- If players are weaker a rule can be made that the ball is allowed to bounce twice
- If players are very skilled make a rule that they can't use the front wall and only
the side walls instead to challenge themselves
WARM UP # 12 - DOUBLES WALLEY BALL
- To mix things up and reinforce tactical awareness and court movement, can play a
different game using the front wall siliar to that of a Volleyball net, adn players must
bump and set a volleyball
- Games will be to 3
- Players may alternate hits
WARM UP # 13 - SQUASH BALL JUGGLING OR HACKEY SACK
- In small groups of 2 - 4 players
- Have players hit the squash ball with their racquet in the air, and challenge group to
hit the ball as many times consecutively without it touching the ground
- To increase the difficulty can have players use hands only and not use racquets
- Also increase distance between students for difficulty
WARM UP # 14 - CROWES AND CRANES
- Students stand in two lines beside their partners, with a center line between them.
- The students are designated a crow or crane. The teacher calls out 'crows' or
'cranes', and the students who are not called try to tag their partner by walking,
running, shuffling, or running to them, whatever the teacher has told them to do.
- Progress from walking to running.
- This is a good game to teach anticapation, or reaction time
- Students will divide class into smaller groups of at least 8 each group
- Students will all from a circle and face each other and toss a ball to a person in the
circle, and also recieve a ball from a person as well
- Everytime a ball is thrown it must be passed to the same person and call their name
may also called at teh same time, they must also recieve a pass from the same person
each time
- A designated pattern will be established where everyone will recieve the ball and throw
the ball once in a single round
- The purpose of this activity is to see how fast the ball can be passed around or toss as
many balls in a circle at a time
- This drill works on concentration and hand-eye coordination