2015 Far Horizons Award for Fiction Winner: Mark Rogers
Congratulations to Mark Rogers (Toronto, ON) on winning the 2015 Far Horizons Award for Fiction with his entry, "Heaven and Back Again, or The Goddit." The Far Horizons Award celebrates the achievement of emerging writers who have yet to publish their fiction in book form.
Rogers' short story will be published in Issue 192, Autumn 2015. Final judge Elyse Friedman had this to say about Rogers' winning piece: "The winner of the Malahat's Far Horizon Award is 'Heaven and Back Again, or The Goddit,' a strange, modern-day fairy tale about children who escape the control of their parents—and the earthly realm—only to return as shells, their essence gone. I was taken by the careful crafting, the crisp sentences, and the real feeling of a father, missing and mourning his lost child."
Read Elyse Friedman's interview with Malahat volunteer Will Johnson about her search for the Far Horizons Award winning entry.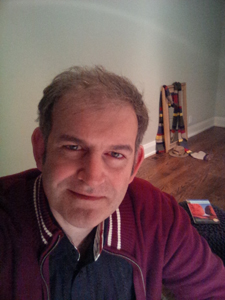 Mark Rogers, winner of the 2015 Far Horizons Award for Fiction!
Mark Rogers lives in Toronto. His short stories have been published in various literary magazines. His writing heroes are Douglas Adams, Don DeLillo, and Graham Greene. Rushdie too, sometimes, when he's soaring. Mark is hard at work on his third unpublished novel (come on, publishers), a tragicomedy about the life and adventures of nineteenth century British Prime Minister, Nicholas Sweetecok.
Elyse Friedman is the author most recently of The Answer to Everything (HarperCollins Canada).  She has written three novels, a book of short fiction and a collection of poems. Her work has been shortlisted for the Trillium Book Award, the Toronto Book Award and the Relit Award, and has won a gold National Magazine Award for fiction. She lives in Toronto. 
Stay tuned for an interview with Mark Rogers in our September e-newsletter.
We would also like to congratulate this year's finalists:

Roy Graham, "Creatures of God"
Richard Kemick, "Bereavement Tax Credit"
Linda Kingston, "Two-Drink Minimum"
Cathy Kozak, "Dirty Girls of Paradise"
Judy Neel, "Lucky Lucy"
Mary Peelen, "The Talented Higgs Boson"

The deadline for the next Far Horizons Award for Fiction will be May 1, 2017.
Previous Prize Winners