Far Horizons Award for Poetry
2014 Winner - Laura Ritland
The Malahat Review is pleased to announce the winner of this year's Far Horizons Award for Poetry. Laura Ritland has won $1,000 for her poem entitled "Vincent, in the Dream of Zundert."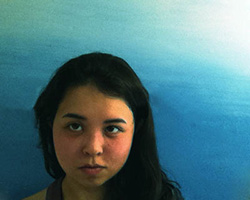 Congratulations to Laura Ritland, winner of the 2014 Far Horizons Award for Poetry!
Ritland's entry was selected from almost 800 contest submissions by this year's judge, Julie Bruck. Here's what she had to say about Ritland's poem:
"This letter poem from Vincent Van Gogh to his brother Theo was born to be a pantoum. Vincent's circular attempts to retrieve a childhood place and time before the 'shadows' of madness closed in find their pulse in the pantoum's pattern of repetitions. The form takes one step forward, three steps back, until the reader is also caught in the thwarted, head-banging sensation of trying to resurrect a lost past.
Equally remarkable here is how the poem teems with colour, though not a single colour is named. Instead, things themselves seem to emit their hues from within: 'Mother, there, like a colour I find sometimes in stories / that go on under an endless afternoon sun without me.... Each path, each field, the magpies in the acacia in the cemetery.'
Both dark and golden, the poem roils like a Van Gogh wheat field. While it enacts the movement of a very particular mind and evokes the brushwork of a singular hand, this poem belongs to its readers."

"Vincent, in the Dream of Zundert" will appear in Issue 189, Winter 2015 (publication date set for late January). Get an exclusive sneak peek at the poem online.
Read an interview with Laura on her win, conducted by poetry board member Jay Ruzesky.
Laura Ritland graduated from the University of British Columbia in 2013 with a B.A. in Creative Writing and English Literature, and is currently completing her M.A. in Creative Writing at the University of Toronto. Her poems have previously appeared or are forthcoming in Branch Magazine, The Maynard, Qwerty and Contemporary Verse 2. Starting this September, she will be working on her creative Master's thesis under the mentorship of Karen Solie.
Congratulations to all of this year's finalists: Simon Peter Eggertsen, Janet Joyner, Brittany Kraus, Jaime Denike, Emily Skov-Nielsen, Raf Newman, Kilby Smith-McGregor, Nathalie Sorensen, Alexa Eldred, Elise Marcella Godfrey, Kat Cameron, Marion Quednau, Annick MacAskill, Nat Marshik, Rhonda Ganz, Elee Kraljii Gardiner, Mollie Coles Tonn, Sneha Madhavan-Reese, Jennifer Zilm, Eric Berlin, and Royston Tester.
The Malahat Review's Far Horizons Award for Poetry runs every even-numbered year, alternating with the Far Horizons Award for Short Fiction.