Far Horizons Award for Poetry
2016 Winner - Yusuf Saadi
The Malahat Review is pleased to announce the winner of this year's Far Horizons Award for Poetry. Yusuf Saadi has won $1,000 for his poem, "The Place Where Words Go to Die," set for publication in the Malahat's 2016 Autumn issue.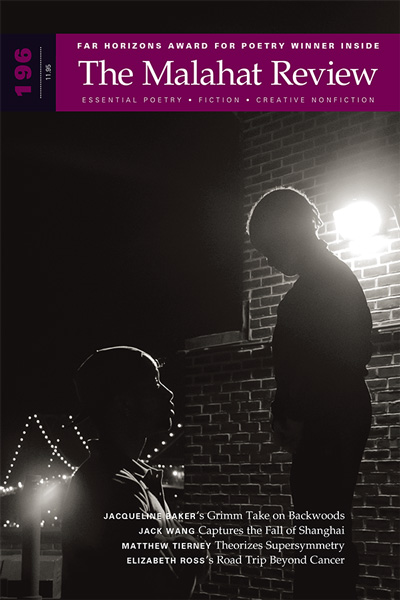 Saadi's entry was selected from over 500 contest submissions by this year's judge, Steven Heighton. Here's what he had to say about the difficult task of choosing the winning poem:
Literary jurors and judges tend to preface their announcements with phrases like, "This was a very difficult decision." Well, for me, choosing the winner of this year's Far Horizons Award was so hard that I might never judge a contest again.
On the other hand, reading and rereading the thirteen finalists the Malahat sent me, then poring over my own shortlist of eight, then five, was rewarding, too. Being forced to attend to poems so exactingly gave me the time to excavate—or for the poetry itself to yield up—the subtler riches that any good poem contains and none reveals at first glance. My troubling takeaway: life is simply too short to allow for the kind of reading that good writing deserves.
My one fear in bringing up the pain of having to break a virtual tie is that I might seem to be diminishing the winner. I don't see it that way. The winner is the winner. Anyway, I console myself that all the finalists will surely go on to be published and celebrated somewhere.
My choice for this year's Far Horizons Award is "The Place Where Words Go to Die." Among other virtues, this dynamic elegy for both words and the world moves seamlessly between different conceptual, emotional, stylistic, and linguistic registers. An impressively-controlled, richly allusive performance.
Yusuf Saadi's writing has appeared or is forthcoming in journals including Grain, Prairie Fire, PRISM international, Vallum, and untethered; he won second place in Grain's 2015 "Short Grain" contest. He recently completed his MA in English at the University of Victoria.
An interview with Yusuf Saadi on his winning poem, conducted by poetry board member Samantha Ainsworth, will appear in September's Malahat lite e-newsletter.
Congratulations to all of this year's Far Horizons Contest finalists: Ana Rodriguez Machado, Cassandra Carter, Jill Talbot, Lynne Burnett, Mallory Tater, Matt Hohner, Medrie Purdham, Mollie Coles Tonn, Sarah Marguerite McCarney.
The Malahat Review's Far Horizons Award for Poetry runs every even-numbered year, alternating with the Far Horizons Award for Short Fiction.