2015 Long Poem Prize Winners: Genevieve Lehr and Gary Geddes
Congratulations to Genevieve Lehr (Halifax, Nova Scotia) and Gary Geddes (Thetis Island, British Columbia) on winning The Malahat Review's 2015 Long Poem Prize. Both winners will receive an award of $1000 CAD in prize money.
Lehr's and Geddes' poems were chosen blind from 258 entries (our biggest Long Poem contest yet) by this year's judges: Evan Jones, Anita Lahey, and Alice Major.
Of Genevieve Lehr's winning poem, the judges said: "the latter half of the third quarter of the waning moon" is ghazal-like in its twists and turns. It might be life as a kind of puzzle, or rather thirty-one different puzzles dropped into one box, all portraits from the same life. It's the kind of poem that takes a risk in its aspirations, challenging the reader. And there are rewards: 'weight in the understory, sunlight on a stream, the exact measure of all things.' One can return to again and again to the poem and still discover new insights. The range of reference is wide and surprising–Nâzim Hikmet, Bobbie Gentry, Milarepa, St. Francis–the language dissociative, the rhythms often raw and out of order. There's something elevated, germinal, fascinating here.

Of Gary Geddes' poem, the judges said: "The Resumption of Play" is a compelling read–the drive of narrative told with the sonic patterning of poetry. It tells an urgent story of the Indian residential schools system. The narrator's voice is that of survivor more than victim–complex, scarred, articulate, flashing with rage and mordant humour. As well as telling the story of an individual, the poem tackles the collision between Aboriginal and Western systems of thought, claiming an equal place for Aboriginal legends with the ancient oral tales of Homer's gods. Western thinkers from Milton to Mao turn up in the six-line decasyllabic stanzas that form the poem's skeleton, as the narrator tries to deal with being 'a naked creature, shucked, fit for neither sea nor land.' This is a deeply necessary narrative.
Born in Newfoundland, Genevieve Lehr lives in Halifax, Nova Scotia. Her poetry has appeared in a variety of literary publications in Canada and abroad. She is the co-collector and the editor of Come and I Will Sing You: A Newfoundland Songbook (University of Toronto Press, 1985, 2003 [second edition]). Lehr is the author of The Sorrowing House, (Brick Books, 2004), and The Design of Wings (Running the Goat Press, 2004). Her poetry collection, Stoma, is forthcoming from Brick Books in autumn 2016.
Read an interview with Genevieve Lehr on her winning poem.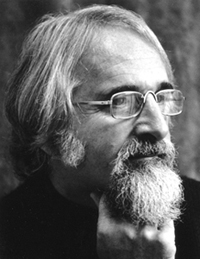 Gary Geddes has written and edited more than forty books of poetry, fiction, nonfiction, drama, criticism, translation, and anthologies, and has more than a dozen national and international literary awards, including the Commonwealth Poetry Prize (Americas Region), the Lieutenant Governor's Award for Literary Excellence, and the Gabriela Mistral Prize (Chile). Red Hen Press published What Does a House Want?: Selected Poems in 2014. Gary lives on Thetis Island in B.C.'s Salish Sea.
Read an interview with Gary Geddes on his winning poem.
The winning poems will be published in the Summer issue of the Malahat.
We would also like to congratulate the 2015 Long Poem Prize finalists:

Cheryl Jacklin-Piraino, "Hell-Roaring Waters and Other Motion Picture Talks"
John Pass, "Creation of the Animals"
Sheila Peters, "The Bathymetry of Lax Kwaxl"
John Reibetanz, "By Hand"