Long Poem Prize - Meet the Judges
Meredith Quartermain
Meredith Quartermain's Vancouver Walking won a BC Book Award for Poetry, and Nightmarker was a finalist for a Vancouver Book Award. Other books include Recipes from the Red Planet (finalist for a BC Book Award in fiction); I, Bartleby: short stories; and U Girl: a novel. From 2014 to 2016, she was Poetry Mentor in the SFU Writer's Studio Program, and in 2012 she was Vancouver Public Library Writer in Residence. She has just launched her fourth book of poems: Lullabies in the Real World, a playful interrogation of colonial and literary history.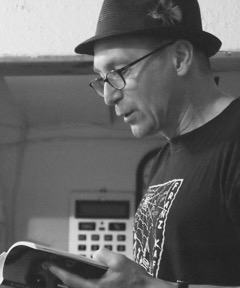 Armand Garnet Ruffo
Armand Garnet Ruffo was born and raised in northern Ontario and is a member of the Chapleau Fox Lake Cree First Nation. He is the author of five books of poetry including Grey Owl: The Mystery of Archie Belaney, The Thunderbird Poems, and Treaty #, for which he was a Governor General's Literary Award finalist. He is also the author of the creative-biography Norval Morrisseau: Man Changing Into Thunderbird, which was also a finalist for a Governor General's Literary Award.  Published both nationally and internationally, Ruffo is the recipient of a Life Membership Award from the League of Canadian Poets and the inaugural Mayor's Arts Award from the City of Kingston. Currently a professor in English at Queen's University, he lives in Kingston.
John Elizabeth Stintzi
John Elizabeth Stintzi is a non-binary novelist, poet, and visual artist who grew up on a cattle farm in northwestern Ontario. Stintzi's work has been awarded the 2019 RBC Bronwen Wallace Award for Emerging Writers from the Writers' Trust of Canada, The Malahat Review's 2019 Long Poem Prize, and has been longlisted for the Writers' Trust of Canada's Journey Prize and a National Magazine Award for Poetry. They are the author of the novel Vanishing Monuments (Arsenal Pulp Press, 2020), the poetry collection Junebat (Anansi, 2020), as well as two previous chapbooks of poetry. Their writing has appeared in Ploughshares, Kenyon Review, Arc Poetry Magazine, Fiddlehead, The Malahat Review, Best Canadian Poetry, and many others. They currently live in Kansas City with their wife and a dog named Grendel.