2016 Novella Prize Winner:
Anne Marie Todkill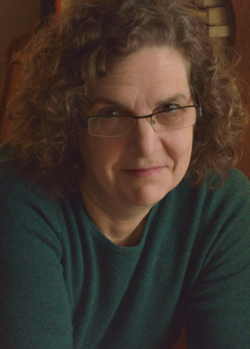 The Malahat Review congratulates Anne Marie Todkill of Ottawa, ON, whose story "Next of Kin" has won the 2016 Novella Prize!
Todkill's entry was chosen from 225 submissions by our three final judges: Mark Anthony Jarman, Stephen Marche, and Joan Thomas. She has been awarded $1,500 in prize money, and her novella will be published in the Summer 2016 issue of The Malahat Review.
Of "Next of Kin," the judges said: With its controlled reveal of complications, it has the drive of a mystery story—but the mystery under investigation is the intricacies of a family over time. Anne Marie Todkill is an accomplished writer, offering surprising and astute insights into the relationship between sisters. Her dialogue is sharp and she is especially incisive in writing about sex. Her narrator Marian speaks with a knowing voice, at odds with her "small life"; the things she withholds come to the reader as a series of small explosions. Todkill imposes no pattern over events and offers her characters no epiphanies. Instead, incidents refract off each other and the story speaks powerfully through its silences. Like all good novellas, "Next of Kin" offers both the concentrated pleasures of a short story and the scope of a novel.
Anne Marie Todkill writes poetry, essays, short fiction and reviews. Her story "The Maze at Traquair" appeared in The Malahat Review's Winter 2013 issue. In 2011 she received the Constance Rooke Creative Nonfiction Prize for "Hoarding." Recent essays have appeared in Canadian Notes and Queries and The New Quarterly, and her poetry has appeared, among other places, in Arc Poetry Magazine, Contemporary Verse 2, Prairie Fire, The Winnipeg Review, and Best Canadian Poetry in English (2012 and 2015). She lives in Ottawa.
Click here to read an interview with Anne Marie Todkill post-contest win.
We would also like to congratulate the 2016 Novella Prize finalists:
Andrew Boden, "Letters to Trotsky"; Tamas Dobozy, "Ray Electric"; Aaron Kreuter, "A/V"; Nicole Rivas, "It Is Certain"; Katherine Vaz, "Birdie"
The Malahat Review's Novella Prize runs every other year, alternating with the Long Poem Prize. The deadline for the next Novella Prize is February 1, 2018.