Congratulations to the 2012 Open Season Awards Winners
Congratulations to J. Mark Smith (Edmonton), Erin Frances Fisher (Victoria, B.C.), and Tik Maynard (B.C. and New Jersey) on winning The Malahat Review's 3rd annual Open Season Awards in the Poetry, Fiction, and Creative Nonfiction categories respectively.
Poetry
Of J. Mark Smith's winning poem, "Landscape with petroleum plant and sewage treatment facility," Judge Sharon McCartney said: "This poem grabbed me instantly and would not let go. The opening line "O Edmunston" is a hyperbolic kick off for the poem, setting the mood, which is cranked up a notch or two from the everyday. The language is a mix of the vernacular and technical. I love how the mythic enters the landscape with Pan and the coyote and even 1951, which refers to a kind of mythic period in North America, when people still had some faith in "fields of bungalow." The poem is kind of a brutal reminder of the wasteland that we have constructed for ourselves out of greed. But, the ending, the last line, feels almost hopeful to me. "Longing" is different from greed. More than anything else, this poem just felt like a poem that had to be there. There's no self-consciousness, no sense of the poet trying to "write a poem." This writer had something to say and has said it well and in a way that no one else could. To me, that's what matters--the voice."
J. Mark Smith, winner of the 2012 Open Season Award for Poetry
J. Mark Smith has published one book of poems: Notes for a Rescue Narrative (Oolichan, 2007). His work has appeared most recently in The Fiddlehead, Zócalo Public Square, The Antigonish Review, and Best Canadian Poetry in English 2008.  A narrative nonfiction piece, "Laboratory of the Air," is forthcoming in the Winter 2011 issue of Queen's Quarterly. With his wife Jennifer and his three-year-old son Gabriel, he lives in Edmonton – on the north side of the river. He teaches English at Grant MacEwan University.
Sharon McCartney is the author of For and Against (2010, Goose Lane Editions), The Love Song of Laura Ingalls Wilder (2007, Nightwood Editions), Karenin Sings the Blues (2003, Goose Lane Editions) and Under the Abdominal Wall (1999, Anvil Press). In 2008, she received the Acorn/Plantos People's Prize for poetry for The Love Song of Laura Ingalls Wilder. Poems from her current manuscript, Gravitas, were longlisted for the 2010 CBC Literary Awards. She lives in Fredericton, New Brunswick.
Read an interview with J. Mark Smith.
Read another interview with J. Mark Smith (one year post-win)
Short Fiction
Of Erin Frances Fisher's short story "Apiculture," judge Padma Viswanathan remarked "It is a spare, moving portrait of a family that has partially disintegrated. Zillah's sister, Aubrey, appears to have been institutionalized after their mother abandons them, and the story takes place on the occasion of Aubrey's return home, though Zillah tells it from some later point in time, so that the story is slightly hazy in her recollection. The bees that give the story its name are occupation, metaphor, and a very real source of threat: they press on the already tight atmosphere of the story, their buzzing a constant reminder of lurking pain. 'We'd had bees forever…' says Zillah, as she thinks about them for a school project. 'Wildflower honey was the colour of Mom's hair…' while Aubrey's, she thinks, is different: '… wild apple honey.' In Zillah's mind, the bees' fate is her own: 'In the drone of the yard, my head became full of bees: how their queens can defect and how that happened to us once. Half the bees floated off as husks before Dad could get a new queen delivered. Drifts of them caught between the storm windows and crumbled, their hives left behind as empty tombs, as sweet catacombs.' These elaborate figures succeed in 'Apiculture' because they feel so physically and emotionally real. This is a deceptively ambitious story, anchored with details and threaded with the bewildered hope of late childhood. I look forward to more from this writer.
Erin Frances Fisher, winner of the 2012 Open Season Award for Fiction
Erin Frances Fisher is a writer and musician out of Victoria B.C. Her short stories have been published in PRISM international and Granta. Erin recently finished a BFA in Writing at the University of Victoria, and is headed back to school for an MFA this fall. She is working on a novella set in the high arctic and teaches piano at the Victoria Conservatory of Music.
Padma Viswanathan's novel, The Toss of a Lemon, traces sixty years in the lives of a young widow and her gay manservant, in early 20th-century India. It has been published in eight countries and was a finalist for the Commonwealth (Regional) Prize, the Amazon.ca First Novel Prize, and the Pen Center USA Fiction Prize. Her short stories have appeared in journals including New Letters, Subtropics, and The Malahat Review; one took first prize in the 2006 Boston Review Short Story Contest. Her plays include House of Sacred Cows and Disco Does Not Suck. Nonfiction has been Padma's excuse to pursue such diverse and fascinating matters as stamp collecting and dumpster diving, as well as her longstanding interest in Brazil. She dabbles in translation, though her Portuguese has been weakened by childbirth. Born and raised in Canada, Padma now lives in Arkansas with the poet and translator Geoffrey Brock.
Read an interview with Erin Frances Fisher.
Read another interview with Erin Frances Fisher (one year post-win)
Creative Nonfiction
Tik Maynard's creative nonfiction story, "Buy BENSTON" was described by judge Joel Yanofsky as "At first glance, 'Buy BENSTON' seems simple, even innocuous. The young narrator asks a favour of his powerful sponsor, but in this brief encounter we are provided with a chilling glimpse into a history of unrest and brutality as well as ethnic conflict. This is a riveting account made more affecting by the understated command the author exhibits in telling what turns out to be a life-and-death story."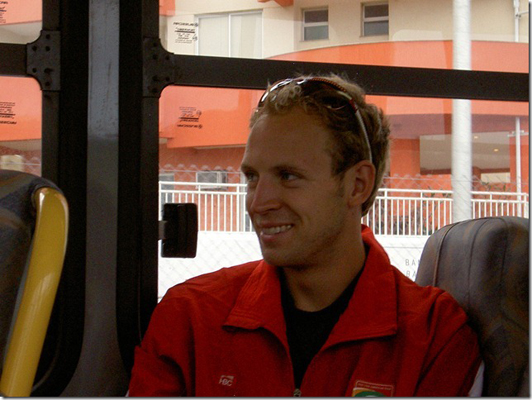 Tik Maynard, winner of the 2012 Open Season Award for Creative Nonfiction
Tik Maynard was born and raised in Vancouver, B.C. While attending UBC he competed for Canada
as a modern pentathlete. Following the 2007 Pan-American Games in Rio de Janeiro he retired from the sport, but continues to run competitively. His articles in Gaitpost and Chronicle of the Horse recently received an honourable mention in the "Online Equine Related Blog" category at the American Horse Publications Seminar. Two of Tik's nonfiction pieces about a Bosnian basketball player were short-listed for the CBC literary awards in 2009. (One of them won the Open Season Award.) Today Tik is a professional horse trainer in New Jersey. Tik imagines one day writing a novel.
Joel Yanofsky is the author of the essay collection Homo Erectus… And Other Popular Tales of True Romance, the novel, Jacob's Ladder, and the biography, Mordecai & Me: An Appreciation of a Kind, which won the Mavis Gallant QWF Nonfiction Prize and The Canadian Jewish Book Award. His most recent book is the memoir Bad Animals: A Father's Accidental Education in Autism, which is a finalist for the 2012 British Columbia National Award for Canadian Non-Fiction. He's a regular book reviewer for The Montreal Gazette and has won two National Magazine Awards as well as The Malahat Review's Constance Rooke Creative Nonfiction Prize.
Read an interview with Tik Maynard.
Read another interview with Tik Maynard (one year post-win)
All three winning pieces will be published in our Spring, 2012 issue (#178), due out in the end of April.
We would also like to congratulate the 2012 Open Season Awards finalists:
In POETRY:
Pamela Porter, Catherine Owen, Jordan Mounteer, Claudia Coutu Radmore, Adrick Brock, Talia Zajac, Susan Stenson, Owain Nicholson, Patricia Young, Christine Thorpe, Cornelia Hoogland, Larissa Kostoff, and Tammy Armstrong.
In FICTION:
Elaine Morin, Shane Neilson, Larissa Thompson, Royston Tester, Gregory Foran, Will Johnson, and Annie Reid.
In CREATIVE NONFICTION:
Heather Tucker, Elise Partridge, Leslie Beckman, and Yvonne Blomer.