How & Where & Why We Do Matter: Samantha Fitzpatrick in Conversation with Megan Butcher
Megan Butcher, whose essay "First Birds" appears in The Malahat Review's winter issue #213, discusses testing the limits of fear, the enmeshed singularity of being in nature, and the need for tension when writing prose in her Q&A with Malahat Review volunteer Samantha Fitzpatrick. Read "First Birds" here.
Megan Butcher is a queer white settler of English and Scottish ancestry. She grew up in rural southern Ontario, a land about which she writes extensively. Since 2001, she has lived on the traditional and unceded territory of the Algonquin Anishinabeg, where she works in Ottawa as a librarian and lives with her partner and their rescue wiener dog in a tilty house at the top of a hill. The author of three chapbooks, her work has also appeared in The Lumiere Review and Herizons as well as other local and international magazines. 

"First Birds" is about birdwatching with your family as a young child. Your mom, dad, poppa, gran, siblings, and cousins all partake. What is your fondest memory of that time together? Do you still birdwatch?

I do still birdwatch. Though I've come to it again just recently, and again through family: this time, my mom and her boyfriend, Dave. On one of my last (pre-pandemic) visits, we spent a lot of time at their kitchen table watching birds come from a copse of trees across their small lawn to the feeders on their deck. It was both peaceful and weirdly thrilling, and reminded me of those times with my grandparents. My next birthday, Mom and Dave gave me a bird feeder, which sits outside my office window now. Here in central Ottawa, I don't see a wide variety of birds, but I do spend a lot of peaceful time watching juncos hopping around in snow.
One favourite memory of that time is almost impossible to pin down. There are really so many, and I feel very lucky for that. One thing related to birdwatching is the physical pleasure it offered. Not just the sights and sounds, but the feel of the red velvet in the binoculars case, the smell of the well-thumbed Audubon that lived in the kitchen drawer beside the window with the best view, the feel of its shiny paper under my fingers. Whoever was around, we'd crowd around the window and share the binoculars. It was a nice way to be together.
In "First Birds," the adults are always teaching the children to give the birds their space and have patience. They impart knowledge on how to better care for the creatures. For instance, replacing the red dyed hummingbird nectar (believed to be carcinogenic) with clear sugar-water in a red plastic flower ("Red draws them"). All throughout the piece there's a deep reverence for nature, but also fear of it. At one point, the children play with this fear, daring each other to look at the owl a little longer. In this case it's a healthy fear, but what do you make of the human desire to test the limits of fear?
It is so interesting that you picked that out! The combination of reverence and fear may come from growing up in the country, both at my own home and at my grandparents, where I spent a fair bit of time till I was 13. I had unfettered access to huge forests and fields and farmland throughout my childhood. This offered access to a kind of silence and peacefulness I would wish for everyone. But it also meant a fair number of white-knuckle drives along very dark empty highways through near-zero visibility; empty, that is, until a car's headlights appeared through the fog and we'd find we were both too close to the yellow line. Someone I went to high school with died when his car hit black ice on a gravel side road and flipped into a field. Nature is awe-inspiring and can make you feel a kind of enmeshed singularity that I think many people long for, but it will also kill you like you don't matter. And you don't, not on that scale.
Maybe pushing against the limits of fear is a desire to remind ourselves how and where and why we do matter. Though I'm possibly not the best person to ask. I actually have a very low tolerance for fear -- or maybe just a high sensitivity to adrenaline. So it doesn't take much for me to test my limits with physical fear. On the other hand, when I am at my best, I am willing to take emotional risks. I wrote a very personally revealing blog for a long time (it's been saved to my hard drive for posterity!), which did take courage, some days. And I think any writer who shows their writing to even one other person is testing the limits of fear. But the fear that you aren't any good at something about which you care deeply isn't as dangerous as, say, an owl's talons are to a mouse.

There seems to be a longing for closeness here. The joy experienced through the practice of observation, watching the birds from a distance, is occasionally disrupted. For instance, the refrain "too close" builds to the piece's final words "so far away." What do you imagine we miss, or gain, from maintaining such distance?
I think you've found the heart of the piece directly here. Like the birds, I think what the I of this piece gains with distance is safety from humans. The birds in this piece are more than content to live without humans. But the I sees this gain of safety also as a loss of belonging. A loss of safety in numbers, in the family group. I mention above the enmeshed singularity of being in nature. That feeling where you are gloriously alone, breathing your own breath, but you feel it sync with the breath of the trees around you. Your breath is sustaining their breath which is sustaining yours, and so on. I think the I in "First Birds" has moments of feeling enmeshed in her family but also needs to retreat quickly to simple singularity, and feels the coldness of that each time the need arises.
To pull the focus out a bit, I see a particular white, settler orientation to nature that grabs and grabs, that takes what it wants without much thought, and I think that comes from keeping a certain objective distance. Where nature is another thing to have. Lots of theorists have theorized about this over the years, and I am trying to figure out how these theories apply to me as a settler whose ancestors left another land to arrive here in Canada, on land that in 1850 was not quite yet treaty land. What is my responsibility to that land, and to the Saugeen First Nation, who are signatories to Treaty 45 1/2? How were my ancestors able to leave their own land, where their ancestors had lived for centuries? It is something that I am trying to work through in my brain and through my writing, so I have no conclusions. But I am starting to believe this distance is possible only through the disconnection of settlers from their own ancestors' lands. We want nature back, but as something to have (again), not something to be with, or care for. Recently I was enraged when a guy on TV went out to a forest and scraped up enough moss to cover the floor of a small room for one night so that the few people to enter could feel like they were surrounded by nature. But they weren't! They were in Soho! Going on about how they felt so close to nature! If you are walking on dying moss in a pop-up store in New York City, you are not communing with nature. I mean, what about that moss? That moss was doing fine without feeling closer to you.
"First Birds" is beautifully poetic. The opening lines of each paragraph were particularly fun to isolate—"Oriole. This one's rare… Red-winged Blackbird. This one's common… Great Blue Heron. This one we cheer… Hummingbird. This one is just there… Killdeer. This one's early… Owl. This one scares… Swallows. This one flies high together… Kingfisher. This one waits… Binoculars. Special case…" Creative nonfiction is heavily influenced by poetry and fiction. Is there one or the other you're more inspired by? What features do you borrow from each?
First, thank you so much! I spent a lot of time moving words around and swapping them in and out to create the music of the piece, so I'm glad that came across.
I am probably more inspired by poetry. I like its economy, even though I tend to run long as a writer. There's a looser energy to prose. In poetry, I feel like I need to think about every word: not just nouns and verbs, but every conjunction and preposition too. Even in a long poem, say 200 lines, you can pay that kind of attention in a way you just can't in prose, even a short story. Well, I suppose you could, but there would be far fewer novels in the world. I also tend to expect more of each word in a poem. Like, I expect that a 50-word poem will carry more meaning than 50 words on page 198 of a 300 page novel. This sounds like I don't like prose or think that people writing short stories or novels don't think about their style or word choice, and of course that is not true. It's just that those 50 word entities have different work to do.
From prose, I try to take a sense of propulsion and tension. Poems will have this too, of course, but engaging prose absolutely needs some kind of tension running through it. A good poem can get away with just a whiff of tension, but most readers won't last long with prose if it doesn't move pretty soon after starting. I hope I've been able to catch at least a bit of the best of both in "First Birds."
On your blog, you've written about having difficulty reading since the pandemic began—a struggle plenty of people have been having. Has the pandemic affected your writing? Are you working on anything now?
The pandemic did affect my writing, but thankfully not in the way it affected my reading. There's a bit of a winding story there, if you'll bear with me. I went through a very long period of writer's block between about 2014 and 2019. For much of that period I could barely stand to think about writing, it hurt so much to not be doing it. And yet I just couldn't. In an effort to break myself out of it, I took a couple of writing workshops at Carleton University in 2019. "First Birds" started as an assignment in a creative nonfiction workshop where I had a great teacher and supportive peer-editing group. Getting good feedback from them felt good; surviving the less positive feedback was what allowed me to really write again. Their gentle and thoughtful voices replaced the really vicious ones that had been in my head for a few years.
When we hit that first lockdown back in the spring, I was just a few months done the course. I was floundering. With no assignments I had no exoskeleton, and I couldn't seem to piece together any internal bones. But I think those first few weeks of lockdown changed me in some fundamental ways. Now that it's been dragging on almost a year, I do find it a bit hard to access the fear I felt in March and April 2020, but I remember having a sudden and very clear sense of the possibility that I might die before I got to write a book, and that I could not allow that to happen. That it was better, in fact, to have dozens of people reject me than to allow the fear of rejection, of my inabilities, of my inner failings, to stop me from writing. I would not die not writing.
Which is a useful, if melodramatic, place to start for a writer. I was still muddling through the mechanics of it when a close friend of mine, in a not dissimilar situation, asked if I wanted to do the #1000wordsofsummer challenge with her. I quickly agreed! Most days, I wasn't successful at hitting that goal, but it got my bum in my chair on the regular and forced me to figure out what did work for me. Not 1000 words? Okay, what about 750? No? Even 500 words a day can add up very quickly.
With that momentum, I started expanding "First Birds." At 2500 words a week, I finished the rough draft of a book manuscript in early October, tentatively titled The Middle of Nowhere: A Field Guide. Right now, I'm wrestling it into some kind of workable structure, and editing other pieces of it to send out for publication elsewhere. It's hard, frustrating, but ultimately very rewarding work. And I continue to keep at it because doing anything with that project is better than thinking about a global pandemic.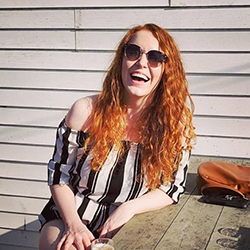 Samantha Fitzpatrick
* * * * * * * *