Revelation and Renewal: Rose Morris
in Conversation with Jann Everard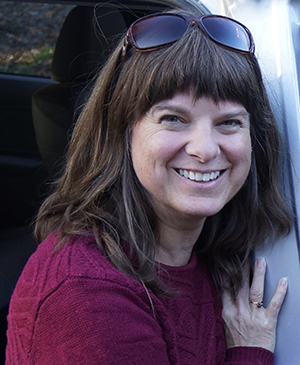 Malahat volunteer Rose Morris talks with Jann Everard, winner of the 2018 Open Season Awards (fiction category) with her story, "Blue Runaways."
Jann Everard's short fiction and creative nonfiction have been published in Canadian and American journals including Grain, The Fiddlehead, The Los Angeles Review, Whitefish Review, Room, and FreeFall. A frequent visitor to the West Coast and the Rocky Mountains, Jann is at home in a tent, a kayak, and a canoe. She lives in Toronto and works part-time in research ethics. 
Read what contest judge Carleigh Baker had to say about Everard's winning story.
What does winning the Open Season contest mean to you?

I've rarely won anything, much less a literary contest, so learning I'd won the Open Season award was quite a thrill! Judge Carleigh Baker's comments also meant a great deal to me as they acknowledged that the story had worked—had touched someone emotionally.  

In your winning story, "Blue Runaways," the term "artist" is played with quite a bit. What does it mean to be an artist?

The protagonist doesn't think of herself as an artist, but she is able to apply the label to others easily. Writers I know often express this idea to me: that they are willing to accept another person as a writer long before they are willing to believe in themselves. The self-doubt stage can be prolonged. Being an artist of any kind is an act of bravery.

The rural setting of Iceland plays and important role in your story. Can you talk a little about how place factors into your writing?

My stories are often launched by my own interaction with place/landscape and my experiences as an outdoorsperson. This story was the result of a two-week camping trip to Iceland, but I'm afraid it won't do much to increase tourism there. It was cold and rainy the entire time—in mid-August. I almost never took off my fleece and raincoat. The wind was so loud that I started to feel a bit crazed. Iceland has many beautiful features, but the barren interior plateau is desolate and the lava fields stark. My response to the landscape—its bleakness—was the root of the story.
When I travel, or when I'm in the wilderness, I find I'm more observant. My stories don't often have urban settings because my creativity gets lost in the everyday routines of big-city living.
"Blue Runaways" is very much about isolation. The protagonist suffers from an intense feeling of isolation, and her parents' solution to that is to send her to an isolated locale. She has a breakthrough and a feeling of connectedness only when she visits an even more isolated space – a cave. Can you tell me a bit about the tension between and dynamics of connection and isolation in your story?

"Blue Runaways" features a lava tube loosely based on Víðgelmir in west Iceland. One of the guides there told me he wanted to spend several nights locked inside the tube. I obsessed afterwards with the question: why would someone choose to spend extended time in such profound darkness? It struck me that darkness can be a place of self-reflection, revelation, and renewal. We even have the adage that people need to "hit rock bottom" in order to turn their life around. When that expression is used, I conjure a pit, or a hole or cave. That dark place became the important turning point for the women in the story.
The character Liv is very much associated with colour, with her all-red outfit and collection of blue crayons. What is the significance of colour in "Blue Runaways"?

When I close my eyes, red and navy blue are the colours I see on the back of my eyelids and suggest to me both suffering and internal retreat—what the characters are experiencing when they meet. And, of course, the expression "feeling blue" is a euphemism for depression.

In Iceland, blue is a significant colour for other reasons. The most famous geothermal spa is The Blue Lagoon, and the icebergs and glacial waters that draw tourists have a unique aqua/turquoise colour.

I've been told that I return to the colour blue often in my writing. I find that strange because it's not a colour I'm attracted to generally. I'll always pick green over blue.

Animals also play a part in your story, both actual animals (horses and sheep), and those mentioned in the Rolling Stones song "Wild Horses." How are the animals and the human characters in your story connected?

I'm not sure that they are! Horses and sheep are unavoidable in the non-urban parts of Iceland—as much a part of the landscape as the lava. Seeing so many Icelandic horses, often braced against bad weather, reminded me of the Rolling Stones song. The tone of the song informed the story as much as the verse lyrics (warning: the chorus to "Wild Horses" can easily become an earworm!).

The protagonist of your story is a woman who recently lost an arm and is coming to terms with that. What is the role of disability in your writing?

I knew from the beginning that this story would be about mental suffering, depression, and loneliness, and I wanted the contrast between a character whose depression could be "explained" (by her recent amputation) and another character whose suffering was less obvious—more internal. As someone working in health care, I'm conscious that follow-up on the mental health of people who experience illness or disability is not always adequate and that those living in emotional pain (or with someone in emotional pain) don't always seek professional help. The two women come together in mutual recognition and empathy. I needed to end on that note of hopefulness.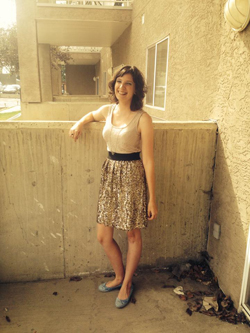 Rose Morris
* * * * * * * *