Write From the Truth: L'Amour Lisik in Conversation with Kathy Mak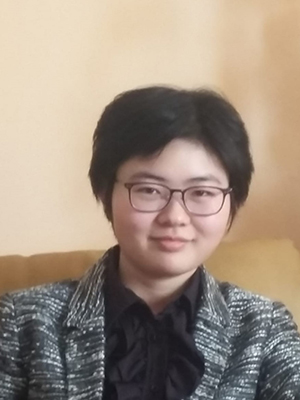 Kathy Mak, whose creative nonfiction piece "墨  / mò /" appears in The Malahat Review's fall issue #212, discusses discomfort, diaspora, and how story determines form in her Q&A with Malahat Review managing editor L'Amour Lisik. Read an excerpt of "墨  / mò /" here.
Kathy Mak is an emerging writer based in Vancouver, British Columbia. Her debut chapbook is forthcoming with 845 Press in 2020. Her poetry and creative nonfiction have appeared/are forthcoming in The/temz/Review, Marías at Sampaguitas, Kissing Dynamite, This Magazine, Understorey Magazine, Canthius, and What You Need to Know About Me Anthology. She has been nominated for Best of the Net in creative nonfiction and is currently the Poetry Editor at Marías at Sampaguitas. Visit her website: http://kathymak.weebly.com/

Your creative nonfiction piece, "墨  / mò /," connects seemingly disparate themes—calligraphy and swimming. What initially drew you to putting these two ideas into a single essay on belonging, suspension, and culture?

I never intended to draw the two themes together. Swimming was something that defined me through my childhood and teenage years. Yet my relationship with it wavered as I grew older – from fear, passion, to obligation. When I first received mentorship on this piece, it was my mentor Whitney who pointed out that swimming seemed to be an obligation for the narrator, rather than a hobby. I hadn't realized this and somehow it rang true even though there was a part of me that repelled this idea. As children, we fantasize beyond the realm of reality. The dream of becoming a swim instructor and making $20/hour was just a step away. Little do we think about the hills and valleys that come in between, and it's challenging when this new face of reality sets in. Suddenly there's all sorts of elements that factor into this one sport, along with a messy tide of emotions you can't explicitly identify.
Initially I tried to sort this out through poetry, as a way to explore and reflect on my experiences. Perhaps to look at it in a different lens, now that I'm older. But I wasn't able to express what I wanted, and soon abandoned the poem. The idea of writing about my swimming journey was still in the very back of my mind. Then in April, when social distancing measures were enforced, I was at home a lot and decided to practise Chinese calligraphy. I'm no expert at it, but when I was young, my dad would nudge me and my sister to practise as a way of understanding our cultural roots. As I wrote each character, I thought back to the time when my mom would say the name of each stroke as she traced over them. This stemmed the idea to implement the eight basic strokes of writing Chinese calligraphy as headings into my story. It was coincidental, in that the essay detailed eight different memories of swimming.

There's a surprisingly vulnerable and detailed scene in your piece about one of your first periods, and figuring out how to use tampons. It ties in beautifully with the fear and breath work involved in learning how to swim. Though poetry and fiction often reflect their author in some way, creative nonfiction frequently offers an unflinching look at the writer. How did you decide to include this scene? Did you learn how to convey this vulnerability through reading other creative nonfiction work, or did it come naturally to you?

My pledge to writing is that I always try to write from the truth. I want to sustain this notion of integrity and sincerity in my work because society is often saturated with artificial, materialistic values and beliefs. It wasn't a decision whether or not to include the scene. It naturally belonged because this was part of my experience. I remember when I wrote my first draft, I was scribbling in my notebook and the more I tried to recall the memory, the warmer my cheeks grew – to the point where I was sweating by the time I finished. I'm not used to disclosing such personal, vulnerable experiences because it brings discomfort and unwanted feelings from the memory. But at the same time I had to confront these experiences to understand and work towards a conclusion. Conveying this vulnerability came naturally – it's hard to forget an experience that holds a turning point in your journey.

"墨  / mò /" is steeped in your experience of Chinese-Canadian culture. The eight basic strokes of shū fǎ serve as section dividers, but the feeling of being othered is present as well, both overtly and more subtly: "An Asian body in a crowd of white," and, "I was never one of those kids." Does culture also figure prominently in your other work?

Yes, culture is a theme I continue to explore and attempt to understand. It's present in most of my written works because it is deeply rooted within me. I started to notice racial inequity and prejudice during high school, and that fueled one of the first creative nonfiction essays I wrote. It brought the realization that even if I was a born and bred Canadian, my complexion and introverted personality indicated otherwise. A few years ago, I went to my parents' village in China for the first time. I got to see relatives I've never met before, and walk on the lands of a home I've never been to. This broadened my perspective of culture and, genre-wise, inspired a series of hand-drawn sketches of my experience as a way to capture and explore my diaspora.
You've had your poetry, creative nonfiction, fiction, illustrations, and comics published, and you have a forthcoming poetry chapbook, Another Day. Do your various creative outlets inform one another? And as a multi-genre writer, how do you approach a new piece? Do you have strict outlines before you start writing, or do you let the writing guide you?

Story determines form. This was something mentioned during mentorship and it stuck with me. Often times there is a greater emphasis on the various genres of writing which serve as a premise for many writing organizations, but at times the essence of the story gets restricted within these labels. Genre does come to mind when I have an idea for a story, but I think about how the form fits my story instead of the other way around. With small, concentrated moments, I usually capture it through poetry and with experiences that require a lot more unearthing, I use creative nonfiction. My illustrations and comics come to mind when I'm in a writing slump. This is a period when I want to write, yet my brain feels exhausted, so I divert my attention to other things to let it rest. I try to broaden my perspective on different forms of writing and art, and integrate various parts into my work. This was what I was hoping to convey through my chapbook Another Day, which is a hybrid collection of poetry, essays and illustrations. I find that creating outlines restricts the freedom and the direction the piece can go in, so I let the content itself guide me.

What are you reading right now and/or what's on your to-read list?
I think I'm one of the odd writers outside of the box. I don't read as much as other writers do and don't really have a to-read list. I mainly read fiction to help my mind relax and that's based on what I find at the library. Occasionally I read online literary magazines to see how other writers are doing, and learn from their work. Lately, I have been interested in the Shin-hanga art movement from Japan. I really enjoy looking at the landscape and travel scenes – it brings a sense of serenity and renewal towards life.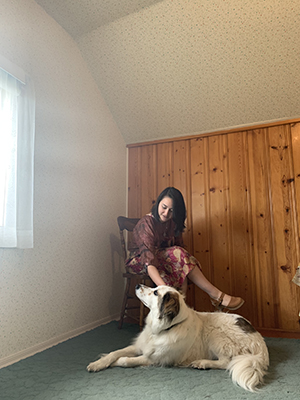 L'Amour Lisik
* * * * * * * *