Essential East-Coast Writing
No. 180 Autumn 2012

Publication Date: October 19, 2012
This fall, The Malahat Review and The Fiddlehead collaborated on an exceptional venture to showcase the literatures of their respective coasts, with each magazine holding up a mirror to the other.
"Essential East Coast Writing" presents the likeness that our mirror caught in the work of 37 writers living in or with links to Atlantic Canada. This likeness is further refracted through reviews by eight West Coast authors about books by eleven of their East Coast peers. 
We hope that reading "Essential East Coast Writing" will provoke your own reflections about the literary culture of what for us is a region on the far side of the country.  For us the mysterious "East" is not India or Japan; however exotic they are to many of us, they're still to the west.
We encourage you to share your thoughts about the implications of East Coast and West Coast writing on The Malahat Review's and The Fiddlehead's joint blog:
http://fiddleheadwest-malahateast.blogspot.ca/
Launches
New Brunswick: Thursday, October 25th. 8 p.m. Bailey Auditorium, Tilly Hall, UNB. readings by Claire Kelly, Gerard Beirne, Lynne Davies, M. Travis Lane, Ian LeTourneau, Kerry-Lee Powell, and Anne Compton. Refreshments will be provided.
Victoria: Monday, November 12th. Doors 7 p.m., Readings 7:30 p.m. Fernwood Inn (1302 Gladstone). Readings from Patrick Friesen, Bill Gaston, Catherine Greenwood, Lorna Jackson, Tim Lilburn, Steve Noyes, Patrick Lane, Jamie Dopp, and Jay Ruzesky.
Halifax: Thursday, November 29th. 7:00 p.m. University of King's College, Arts and Admin. building, the Wardroom. Readings from Brian Bartlett, Matt Cornfield, Lorri Neilsen Glenn, Sue Goyette, Heather Jessup (for Anne Simpson), Carole Glasser Langille, E. Alex Pierce, Peter Sanger, and Harry Thurston.
Cover · Contents · Book Reviews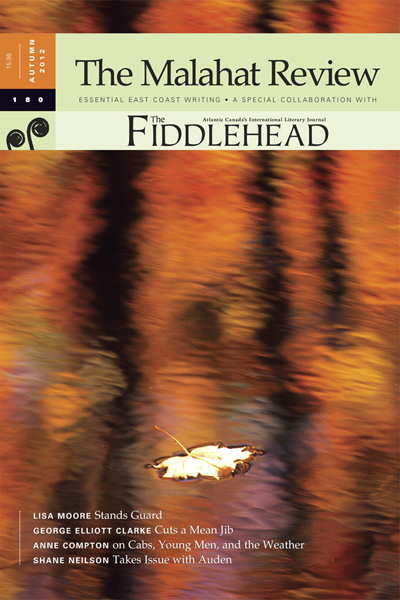 Web Exclusives:
Contents:
Introduction
Poetry

Tammy Armstrong, "Salt"
Brian Bartlett, "A Reader at Thirteen"
Gerard Beirne, "Meditation #33: The Hour is Upon Us"
George Elliot Clarke, "Respecting Mrs. Henry Tucker"
Anne Compton, "Cab Ride, Paris," "Footwork in Four Seasons," and "Plovers"
Matt Cornfield, "All That Happens Before Winter"
Michael Crummey, "In Transit," "The Selected ," "Albert," and "The Skeptics"
Mary Dalton, "Netted," "Appliqué," and "Invitation Cards"
Line source list for all three Mary Dalton poems
Lynn Davies, "Moving Day" and "Nasturtiums"
Jesse Patrick Ferguson, "Wish List"
Carole Glasser Langille, "What I could have learned by the light of misfortune"
Sue Goyette, "From 'Ocean'" and "fashion: for the crossing"
Warren Heiti, "Notes Toward a Poem of Great Village"
David Helwig, "Mischance"
*"Mischance" was mistakenly published with italics in the hard copy of issue #180. Read "Mischance" here, as it should be.
Sean Howard, "Catalogue"
Claire Kelly, "Reading Alden Nowlan's 'Hens' at the Laundromat" and "Wilde Paints the Parlour White"
M. Travis Lane, "Mentor Moon" and "Bird Count"
Ian LeTourneau, "A Different Focus"
Brent MacLaine, "Bestiary"
Carmelita McGrath, "With Apologies to the Little Dove"
Steve McOrmond, "They"
Lorri Neilsen Glenn, "And a tatted scarf, Sfakian black"
Michael Pacey, "Hawk and Handsaw"
Peter Sanger, "The Hangar"
Anne Simpson, "Sutra One," "Sutra Two," and "Sutra Three"
John Steffler, "Cuneiform," "Winter Quarters," and "The Sea Still Looks Welcoming"
Harry Thurston, "Still Life with Golden Bream"
John Wall Barger, "Utøya"

Fiction
Interview
Anita Lahey, "Nothing Too Small to Say: In Conversation with M. Travis Lane"
Creative Nonfiction

Chris Donahoe, "Test"
Sandra Djwa, "P. K. Page's Apprenticeship in Saint John, 1935-41"
Robert Finley, "The Approaches"
Shane Neilson, "The Entirely Beautiful"

Reviews

Poetry

Sue Goyette, Outskirts (London: Brick, 2011) and E. Alex Pierce, Vox Humana (London: Brick, 2011). (Both reviewed by Jane Munro)
Robin Durnford, A Lovely Gutting (Montreal: McGill-Queen's, 2012) and Monica Kidd, Handfuls of Bone (Kentville: Gaspereau, 2012). (Both reviewed by Susan Walker)
Peter Sanger, John Stokes' Horse (Kentville: Gaspereau, 2012). (Reviewed by David Goldstein.)
Fiction           

Russell Wangersky, Whirl Away (Markham: Thomas Allen, 2012). (Reviewed by Jamie Dopp)
Nonfiction

David Adams Richards, Facing the Hunter (Toronto: Doubleday, 2011). (Reviewed by David Leach)

Cover

October Pond #3 (near Jupiter, New Brunswick)
October, 2004
Colour transparency film scanned for digital
Collection of the artist