Jack Hodgins Founders' Award
for Fiction
2019 Winner: Samantha Jade Macpherson
The University of Victoria, on behalf of The Malahat Review, is pleased to announce that this year's recipient of the Jack Hodgins Founders' Award for Fiction is Samantha Jade Macpherson for her novella, "Tattoo," which appeared in Issue 203, Summer 2018. Her story was chosen by award judge, Shashi Bhat.
Established in honour of the celebrated Victoria novelist's contribution to Canadian letters and to the University of Victoria, the Jack Hodgins Founders' Award for Fiction recognizes the excellence of The Malahat Review's contributors by awarding a prize of $1000 to the author of the best short story or novella to have appeared in the magazine during the previous calendar year. The winner, selected by an outside judge who is recognized for their accomplishment as a fiction writer, is announced prior to the publication of The Malahat Review's Spring issue.
Of Macpherson's story, Shashi Bhat says: "'Tattoo' explores the intangible within the setting of the tattoo parlour, a place where ink is literally etched into skin. The story's voice is approachable and contemporary, and its depth of emotion caught me off guard. Early in the narrator's life, after a transformative experience, he is 'initiated . . . into a shadowy adult world where luck and pain and beauty exist simultaneously': the world of this story. Luck and longing and memory and fate permeate through the story's satisfyingly tactile descriptions of food and clothing and art and the body. 'Tattoo' impresses me with its constant ability to surprise, and on multiple levels: story, character, and sentence. When, as a young tattoo artist, the narrator has a strange encounter with a client, its outcome is unpredictable, devastating yet inevitable. The story's ending blazes with momentum and confidence. In a very fine batch of stories, this one stands out."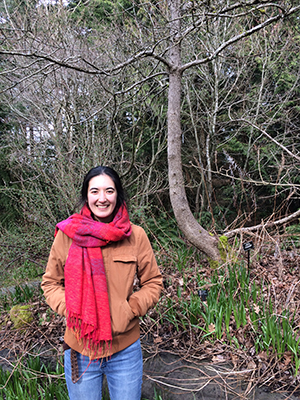 Samantha Jade Macpherson is an MFA candidate at the Iowa Writers' Workshop. Her work has been published in Ricepaper Magazine, The Fiddlehead, and The Malahat Review. She is based in the Okanagan Valley and previously studied at the University of Victoria.
Shashi Bhat's fiction has appeared in The Malahat Review, The New Quarterly, The Dalhousie Review, Grain, PRISM international, Best Canadian Stories 2018, Journey Prize Stories 24 & 30, and other publications. She was the winner of the 2018 Journey Prize, and a 2018 National Magazine Award finalist for fiction. In 2010, she was a finalist for the Bronwen Wallace Award. Her debut novel, The Family Took Shape (Cormorant, 2013), was a finalist for the Thomas Raddall Atlantic Fiction Award. Shashi holds an MFA in fiction from The Johns Hopkins University. She is the editor-in-chief of EVENT Magazine and teaches creative writing at Douglas College.
For more information about the Jack Hodgins Founders' Award for Fiction and how you may support it through a donation, please email The Malahat Review.
Read an interview with Samantha Jade Macpherson on her novella, "Tattoo."
Previous Jack Hodgins Founders' Award Winners
2018
2017
2016
2015
2014
2013
2012
2011
2010
2009
2008
2007