P.K. Page Founders' Award for Poetry
2012 Winner
The University of Victoria, on behalf of The Malahat Review, is pleased to announce the winner of this year's P. K. Page Founders' Award for Poetry: Patrick Friesen of Victoria, BC, for his poem, "storm windows," which appeared in the Spring 2011 issue (174) of The Malahat Review. Patrick Friesen's award-winning poem was chosen by John Steffler.
The P. K. Page Founders' Award for Poetry recognizes the excellence of The Malahat Review's contributors by awarding a prize of $1000 to the author of the best poem or sequence of poems to have appeared in the magazine during the previous calendar year. The winner, selected by an outside judge who is recognized for his or her accomplishment as a poet, is announced prior to the publication of The Malahat Review's Spring issue.
Of Patrick Friesen's poem, Steffler says, "Many other poems in these issues of The Malahat are technically exciting or show amazing passages of imaginative and linguistic brilliance; several poems display impressive craft, labour, and knowledge in the way they address a particular subject; several are marked by strong narrative personas and deeply engaging accounts of human experience; but Patrick Friesen's 'storm windows' seems to me to go an extra step in conjuring up and offering an experience of poetry's ability to transform consciousness, alter perception, and enlarge our awareness of ourselves, our lives, and our world. It is a masterfully crafted poem that goes on resonating with a sense of the power, the troubling beauty, and the mysterious significance in ordinary experience."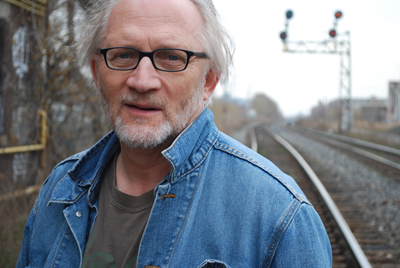 Patrick Friesen lives on Vancouver Island, Canada.  He has published numerous books of poetry, a book of essays, a play, and co-translations, with Per Brask, of Danish poets Niels Hav, Ulrikka Gernes, and Klaus Høeck.  A Broken Bowl (1997) was short-listed for the Governor General's Award and Blasphemer's Wheel won the Manitoba Book Award.  As well, two books of poetry were short-listed for the Dorothy Livesay Award, BC Book Prizes.  Friesen has also written several stage and radio plays, text for dance, and has recorded two CDs of spoken word and improv music with Marilyn Lerner.  His most recent book was Jumping in the Asylum (Quattro Books, 2011).  A Dark Boat, a book of poems, will be coming out with Anvil Press in the spring of 2012.
John Steffler
is the author of five books of poetry, including
The Grey Islands
(M&S, 1985, Brick Books, 2000),
That Night We were Ravenous
(M&S, 1998), and
Helix: New and Selected Poems
(Vehicule, 2003). His novel
The Afterlife of George Cartwright
(M&S, 1992) won the Smithbooks/Books in Canada First Novel Award and the Thomas Raddall Atlantic Fiction Award and was shortlisted for the Governor General's Award and the Commonwealth First Novel Award. His poetry awards include the Atlantic Poetry Prize and the Newfoundland and Labrador Poetry Prize. He has served as writer-in-residence at Concordia University, Saint Mary's University, and the University of New Brunswick.
The P. K. Page Founders' Award for Poetry honours the celebrated Victoria poet's contribution to Canadian letters. It is made possible by a financial donation to The Malahat Review by P. K. Page in recognition of her long association with the magazine and as a gesture of her deep appreciation of her peers in the local and national literary communities.
P. K. Page (1916-2010) was born in England and came to Canada in 1919. Educated in England, Calgary, and Winnipeg, she studied art in Brazil and New York. She first came to the attention of the readers of Canadian poetry in the 1940s through her association with and regular appearances in Preview, a Montreal-based literary magazine key to the establishment of modernism in Canada. Her first important publication, Unit of Five, an anthology published by Ryerson in 1944, was followed by an impressive series of books of poetry, fiction, and memoir that display a characteristic love of ideas and a distinctive use of language that have won her admirers around the world. Her contribution was recognized early, when The Metal and the Flower (McClelland and Stewart) won the Governor General's Award for Poetry for 1954. Her recent books of poetry include Hologram (1994), The Hidden Room: Collected Poems (1998), Hand Luggage (2006), The Filled Pen: Selected Non-fiction of P. K. Page (2006), and Up on the Roof (short fiction, 2007). Under the name P. K. Irwin, her paintings and drawings have been exhibited widely and are held in public and private collections across Canada.
For more information about the P. K. Page Founders' Award for Poetry and how you may support it through a donation, please email The Malahat Review.
Read an interview with Patrick Friesen.
Previous P.K. Page Founders Award for Poetry Winners