Six Ways to Maximize Your Marketing Efforts in Publishing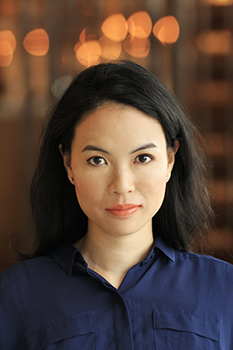 Photo credit: Ming Kai Leung
You've written your masterpiece. What are the next steps to market it? In this month's Publishing Tip, Doretta Lau presents six essential ways to taking your writing—and your writer profile—to the next level.
Doretta Lau (@dorettalau) is the author of the short story collection How Does a Single Blade of Grass Thank the Sun?. She splits her time between Hong Kong and Vancouver, where she's working on a comic novel about a dysfunctional workplace. She is also launching a pop culture website, The Unpublishables.
Most writers I know hate selling their work. I have friends who are so modest that they won't even mention winning a major literary prize on their website. Others are so wary of self-promotion that they don't post about their latest essays, short stories, or interviews on social media, thereby missing out on an opportunity to connect with fans.
Let me assure you that there is nothing crass about wanting to reach your readers. For the longest time I did not understand marketing and I held the mistaken belief that writing a good book would cause everything else to fall into place. This is not how the industry works for ninety-nine percent of writers. In order to sustain a career, it is essential to nurture your readership.
Lucky for me, when I signed my book deal a friend who had worked in the music industry shared her professional secrets with me. I've distilled her advice into six simple budget-friendly steps.
Define your brand
Ask yourself how your writing is different from anything else being produced at this moment. Why might a reader be interested in your work? Remember that you have a story to tell. Perhaps you're a feminist with a comedic gift, a single father of five living in an apartment in a small town, or a transnational adoptee who works as an undertaker.
Once you've answered these questions, write a statement about your brand. Pinpoint who you are, why your writing is important at this moment in time, and how your work benefits others. You don't need to share this with anyone—you just need to make this clear so that you can set the right goals and stick to them.
Optimize your website
The navigation on your website has to be simple. All the information must be communicated in a clear and professional way. Make it easy for a reader to buy your book or click through to work you've published online.
The following items must appear on your site:
Bio: stay on brand and sell yourself
Downloadable high-resolution author photo
List of publications in chronological order
A separate landing page for each book linking to retailers
Blog or news page
Event page
Press page: interviews and reviews
Contact information: email, social media channels, mailing list signup
Invest in a good author photo
It is never too early to have a good professional portrait of yourself on hand. Even if your book isn't out yet, you may win a contest or publish your work on a website that requires a photo. When my short story collection came out, I wrote an essay about how to execute a good author photo for The National Post. I'd give the same advice today.
Connect with your community
There are so many other writers out there. Rather than viewing them as your competition, it's much healthier to embrace them as your friends and colleagues. At the most basic level, you need to read contemporary writing. If you don't have the money to buy books, request them from your local library.
If you have the resources and energy, make time to go to literary events to support your colleagues. Join a writing group or find a Shut Up and Write event in your neighbourhood. Volunteer to work at literary festivals or journals. If you're too shy to do these things, start small and join Twitter. Writers love Twitter especially during bouts of procrastination. I've connected with so many people on this platform and discovered fantastic writing by following interesting accounts.
Build your audience
Who are you trying to reach and how can you best serve them? If you are clear on this, it will make it easier to decide which opportunities to accept and which to decline. This will also help you map out your goals and pick the right projects to pursue.
A friend and I decided to take control of our audience development efforts by launching a website called The Unpublishables to showcase our writing as well as the work of other creators. We are doing this to bypass traditional media gatekeepers and to build a strong fan base. Kevin Kelly outlines why this is important in his essay "1,000 True Fans."
Work on your public speaking skills
At some point in your career, you will need to speak in public. Whether this is an invitation to read at a festival, a visit to a university class, or your own book launch, it is necessary to learn how to project your voice and connect with the crowd. Take an acting class, hire a voice coach, study the speeches of great orators, or watch videos that show you how you can make small improvements to your stage presence. I find these clips about body language and eye contact very helpful.
If you have control over your voice and body, you have the power to create a positive emotional impact on the audience. You want to connect with the crowd, so that people leave an event wanting to read your work, to learn more about you, and to tell their friends what a great experience they had with you.
* * * * * * * *
The Malahat Review posts "Publishing Tips" as a bimonthly guest column on its
website and in Malahat lite. Follow it in order to learn how to improve your professional skills, from the writing of cover letters, to what house style means, to choosing a rhyming dictionary, to having an author photo (as opposed to a selfie) shot. If you have a Publishing Tip you'd like to share, email The Malahat Review at malahat@uvic.ca, with "Publishing Tip Idea" in the subject line. Tips should be 750 words or less. If yours is accepted, you will be paid an honorarium of $50.