Finding Your Strength in Retreating: How to go on a Writing Retreat
June's Publishing Tip comes to you from Julie Paul, local Victoria poet, short-story writer and former Malahat fiction board member. Looking to go on a writing retreat? Read her advice, pack your bags, and start writing!
Julie Paul has published two collections of short fiction, The Jealousy Bone (Emdash, 2008) and The Pull of the Moon (Brindle & Glass, 2014). The Pull of the Moon made the Globe and Mail's list of Top 100 books of 2014, was awarded a bronze IPPY award and most recently won the 2015 Victoria Book Prize. Her first book of poetry is forthcoming in 2017. She is currently at work on more stories and a novel in Victoria, B.C. More info can be found at www.juliepaul.ca.
The act of writing has many requirements, but above all, it needs time. No matter what type of writing you do, or how accomplished or new you are to the art—a lack of dedicated writing time is often the biggest stumbling block in the way of getting the work done.
Sometimes ten minutes at lunch is all you have. But what if you want to dive in deeper? What if your project needs uninterrupted time in which to grow and flourish? Rather than forcing a bloom, why not try a writing retreat?
I've had the pleasure of retreating many times, from one-day mini-retreats to months-long sojourns. All have been useful—pivotal, even—in my life as a writer.
There are many organized retreats out there, with instruction and/or mentorships included. See the link below for resources. But if you'd rather DIY, here's a list of considerations to help you plan a self-directed writing retreat.
Length: This can range from a local day-off retreat to a weeks-long getaway far from home. I've made the most of shorter retreats to edit a story or complete poems for a contest; 2-3 days have helped me organize a story collection or complete sections of a novel, and a month away gave me time to dive deeper into a new project as well as time to read—essential for writers.
Cost: A retreat doesn't need to cost anything, or you can splurge and choose one that provides all the luxuries. Housesitting is one way to find space, or check into a local hotel—off-season rates are reasonable. If you want to just check in and only focus on writing, a place like The Banff Centre might be a good fit. I spent two very productive weeks there in 2006—what a supportive, creative community. Or sign up for a retreat such as one offered by Saskatchewan Writers' Guild, at St. Peter's Abbey, or Anam Cara, in Ireland, both places that writing friends highly recommend.
Location: You can retreat at home, but I recommend otherwise. If you can't leave town, can you find a friend who needs a pet sitter? Try going further afield; even the next town or gulf island over is a change of scenery and might hold inspiration. The goal is to create some sort of separation from everyday life, so you're not tempted by emails, laundry or gardening…. Walking other peoples' pets is acceptable if it gets you a place to stay! Retreats in other countries offer immersion in other cultures and often the chance to meet writers from around the world.
Solo / with other writers: If you know like-minded people who'd be respectful of what a writing retreat requires—mainly focus, dedication and quiet time—try a group retreat: rent a house together and dive in. I've retreated on Gulf Islands with writing friends for many a productive and fun weekend—writing on our own all day, sharing work in the evenings. If you'd prefer to work alone, go for it. I do this every year for two blissful nights in a beach cabin with no wifi or cell service. Silence and uninterrupted hours can be just the thing you need. But make sure you'll feel safe on your own so you don't have that worry to distract you.
What to bring: All the things that make you feel at home: photos and fresh flowers can brighten up a nondescript hotel room. Music? Headphones and/or earplugs to ensure quiet.
Your favourite writing foods. For me, it's crunchy foods like crackers and apples which I swear help my synapses wake up (okay, so maybe potato chips, too).
Chocolate and wine, if so inclined, to celebrate the completion of a new draft, chapter, novel…
Whatever you write with. Remember extra pens, notebooks, and your laptop charger.
Books: for inspiration, diversion, breaks. I was deeply grateful for the bookstore café in Tepoztlan, Mexico, when there for a month—and not only for their killer brownies.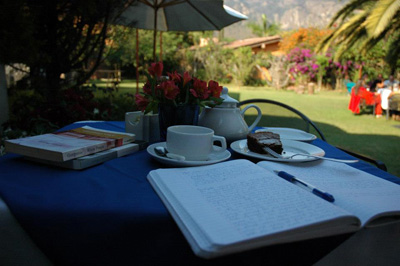 Comfortable clothing and outdoor wear, for taking breaks from the desk.
An open mind and flexibility. You may go on retreat with specific goals, and while they're often helpful, don't beat yourself up if you end up sleeping or reading more, or staring out the window: all feed your writing. If you really miss your family and want to call, do it, but only if calling them is less distracting than not calling!
Enjoy your future retreats, and may the muse be with you.
Some helpful links mentioned above

* * * * * * * *
The Malahat Review posts "Publishing Tips" as a bimonthly guest column on its
website and in Malahat lite. Follow it in order to learn how to improve your professional skills, from the writing of cover letters, to what house style means, to choosing a rhyming dictionary, to having an author photo (as opposed to a selfie) shot. If you have a Publishing Tip you'd like to share, email The Malahat Review at malahat@uvic.ca, with "Publishing Tip Idea" in the subject line. Tips should be 750 words or less. If yours is accepted, you will be paid an honorarium of $50.