Welcome to Chinatown
Timeline
1849::Miners from around the world, including from China, flock to California after gold is discovered.
Summer 1858::First Chinese immigrants arrive in Victoria from Califronia and China after gold is discovered in the Fraser Valley.
Chinatown Victoria begins on Cormorant Street between Government and Douglas Streets
1872::Chinese and Chinese Canadians disenfranchised in British Columbia.
1881::Canadian Pacific Railway sponsors Chinese workers to build railroad from Montreal to Vancouver. Many die or are injured in exploisions blasting tunnels through mountains.
Between 1881 and 1884 15,000 Chinese workers move to Canada. Many settle in Victoria, the "gate way to China".
1885::The Canadian federal government imposes a $50 head tax on every Chinese person entering Canada.
1886::Eighty-seven percent of Victoria's 2988 Chinese residents live in Chinatown.
1900::The head tax is increases to $100.
1903::The head tax increases to $500. By 1923 the federal government would have collected $2.3 million dollars (approximately $2 billion dollars in today's money) from 81,000 Chinese immigrants.
September 1907::Asian Exclusion league host a rally in front of Vancouver's city hall. A mob attacks Chinatown and Japantown in Vancouver. Thousands of dollars in damage is done.
1 July 1923::The federal government passes the Chinese Exclusion Act, prohibiting the immigration of Chinese people to Canada.
1920s-1970s::Victoria's Chinatown gradually declines. Many Chinese and Chinese Canadians move outside of Chinatown, to Vancouver or back to China.
1947::The Chinese Exclusion Act of 1923 is repealed
1980s~::Revitalization and perservance of Victoria's Chinatown commences.
1981::The Gate of Harmonious Interest is constructed in honor and recognition of the Chinese heritage in Victoria.
1982::Canada passes The Canadian Charter of Rights and Freedoms, making it illegal to discriminate based on race, national or ethnic origin, colour, religion, sex, age or mental or physical disability.
Immigration
Location of Victoria's
Chinatown, 1861
Chinese migrants first began arriving in Victoria in June 1858 when gold was found in the Fraser River. Nicknamed the golden mountain, young Chinese men, like so many others from around the world, flocked to Canada's west coast in search of riches.
Almost overnight Victoria's population grew from around 300 residents to an astonishing 25,000 as those wishing to go in search of gold first had to obtain a mining license in this port city.1 While most Chinese men found their way to the mainland as quickly as they could, some decided to buy property and set up shops in Victoria. These stores, located on Cormorant Street between Douglas and Government Streets, were the beginning of what would become Canada's largest Chinatown by 1881.2
Chinese Quarters of
Victoria, 1886.
By 1886, Chinatown grew to include more than four city blocks north of the Johnson Street ravine. Of the nearly 3000 Chinese or Chinese descent residents that lived in Victoria in 1886, eighty-seven percent lived within the boundaries of Chinatown.3
Anti-Asian Racism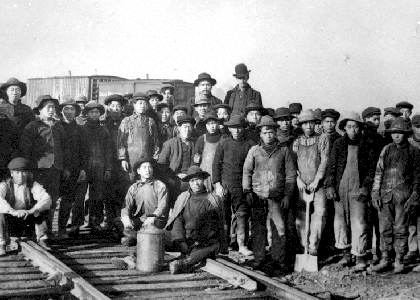 Chinese Work
Crew on CPR
As the nineteenth century came to close there was a steady growth in immigration from China. Between 1881 and 1884 over 15,000 Chinese men arrived from China, San Francisco, and Puget Sound ports, many of whom helped build the Canadian Pacific Railroad (CPR).4 Many of these workers settled in Victoria and Vancouver. These new immigrants were not well received by the Canadian government nor the general public. Within a year of the CPR completion, the Canadian government enacted the first of a series of restrictive immigration policies targeting Chinese immigrants. Beginning with Head tax in 1885, which levied a $50 tax on every person of Chinese origin entering Canada, the Chinese people had become unwanted immigrants. This tax was increased to $100 in 1900 and to $500 in 1903, a sum that was equivalent to two year's wage for most Chinese labourers. On July 1st, 1923 the Canadian parliament passed the Chinese Immigration Act, restricting all but a few Chinese people from entering the country. It was not repealed until 1947.5 Such humiliating acts against Chinese people were more than just institutional.
In September 1907, Chinatown and Japan town in Vancouver were attacked by a mob of white people following an anti-Asian rally.6 Though the riots never made it to Victoria, anti-Asian sentiment was just as rampant. Chinese residents like other people of color and First Nations peoples, experienced daily acts of racial violence.
Chinatown in Victoria
Chinatown Victoria provided much support for Chinese and Chinese-Canadian residents and sojourners. By 1910, Chinatown Victoria had become its own self-contained community and the "gate way to China" for many Chinese immigrants.7 Chinatown provided a haven where Chinese and Chinese Canadians could retain their language and culture.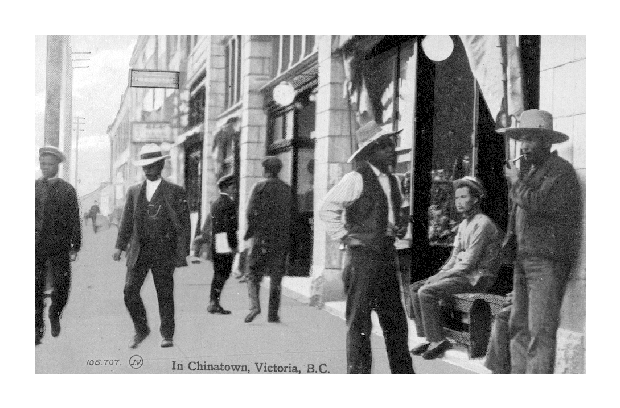 Chinatown, circa 1910
Chinatown began to decline in population and importance as Vancouver's Chinatown grew in the early 1920's. In 1931 Chinatown Victoria had declined to 3,702 people.8 Within the next twenty years the population of Chinatown declined to just below 2000 residents and would not revive until the 1980s.9
Beginning in the 1980s, the Chinese Canadian community in Victoria begin efforts to perserve and revitalize the historic Chinatown. In 1981 the Gate of Harmonious Interest was erected as a monument in recognition of the Chinese heritage in Victoria.
Chinese immigration to Victoria can be characterized not only by the hardships, but also by stories of survival and perservance. Victoria's Chinatown remains a lasting symbol of the city's early immigration as well as the contribution that Chinese and Chinese Canadians have made to Victoria.
---
(1) Peter A. Baskerville, Beyond the Island: An Illustrated History of Victoria (Burlington: Windsor Publications, Ltd., 1986), 46 and 57.
(2) David Chuenyan Lai, The Forbidden City within Victoria (Victoria: Orca Book Publishers, 1991), 4-5.
(5) Patricia Roy, White Man's Province: British Columbia Politicians and Chinese and Japanese Immigrants, 1858-1914 (Vancouver: University of British Columbia Press, 1989), 67-68 and 70.