2022 Constance Rooke CNF Prize Winner: Andréa Ledding
Congratulations to Andréa Ledding, winner of the 2022 Constance Rooke Creative Nonfiction Prize. Her entry, "Define Intervention" was chosen by final judge D. A. Lockhart.
Andréa Ledding will receive publication in The Malahat Review's winter 2022 issue #221, and of course, the grand prize: $1,250!
Of Ledding's piece, D. A. Lockhart said: "Define Intervention" is one of the strongest personal essays about writing I have encountered and one that I feel every creative writing student and/or education needs to read. The strength of the work is most clear in its usage of granite solid lines and the well-earned work to achieve them. There is a lyricism here that is fresh and tied to words as portals. It is reminiscent of the great hip-hop lyricism of Jay-Z and Kendrick Lamar, where these touchstones open up into surprising depths. But it is more than just those and speaks to literary and personal connections beyond the expected. Individual words are followed into their root systems, opening dialog on not only the personal matters but the way that words come to the page as a writer, as a composer. Exploring critical points of trauma, engagement, artistic literary creation, and most importantly healing and survival, this is an essay that does all the heavy work while keeping it beautiful and engaging.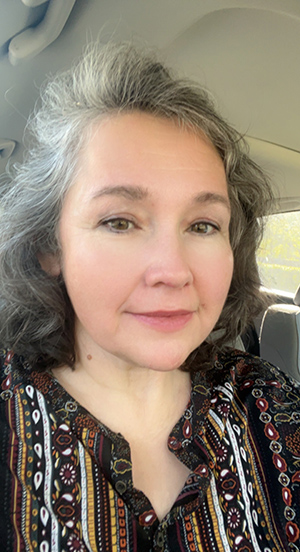 Andréa Ledding is a freelance photojournalist, poet, playwright, editor, communications specialist, and mother of seven adult kids. She resides in Saskatoon, Saskatchewan—Homeland of the Métis and Treaty 6 Territory. Her play Dominion debuted in Toronto, travelled across the country in Canada 150, and then ran in Gordon Tootoosis Nikanawin Theatre in Saskatoon, where it was nominated for a SATA award for Outstanding Script. She completed her MFA in Writing in the inaugural cohort in 2011 at the University of Saskatchewan and went on to complete an MA in English. Her writing has previously been shortlisted for The Malahat Review's Far Horizons Award for Poetry, the CBC Literary Prize, and other literary contests, some of which she has gone on to win, which she is incredibly grateful for, given the amazing talent out there. She belongs to a couple of writing groups for both literary and therapeutic purposes, and is owned by both a dog and a cat.
Keep an eye out for an interview with Andréa on her CNF Prize win in the January 2023 Malahat lite e-newsletter.
Finalists for the 2022 Constance Rooke Creative Nonfiction Prize:
Sadiqa de Meijer, "In the Field"
Michelle Doege, "Siva's Fire"
Sue Goyette, "In which Haraway's 'multispecies flourishing' radiates over the threshold of death to mothers and sisters by way of two endangered wolves on a live cam at this late stage of, well, everything"
Sandy Ibrahim, "Preparing the Eulogy"
Madeleine Nattrass, "Chère Céleste"
N. R. Robinson, "Visiting Mama"
MK Sidhu, "Untitled"
Cathy Stonehouse, "Dark Matter, or Four Failed Attempts"
Emira Tufo, "The Wisdom of Onions"
Congratulations to all entrants, and thank you for your ongoing support of our literary contests and endeavours! Thank you as well to D. A. Lockhart for judging this contest with care and thoughtfulness.