Long Poem Prize
(contest now closed)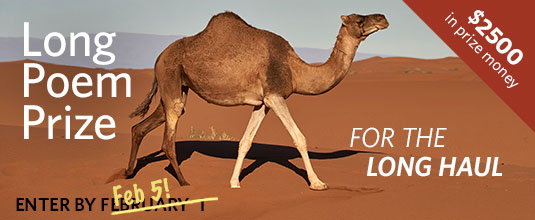 This contest is now closed. Check back in November 2023!
The Malahat Review invites entries for its biennial Long Poem Prize, for which two awards of $CAN 1,250 each are given. The contest is open to Canadian and international writers anywhere in the world, with a deadline of 11:59pm (PST) on 5 February 2021. All entries are judged anonymously, and the two winning poems will be published in the magazine's summer 2021 issue. This contest is offered every second year, alternating with the Novella Prize. Poets contributing to The Malahat Review's contests have also won or been nominated for National Magazine Awards for Poetry and the Pushcart Prize.
*Mailed or emailed contest submissions are no longer accepted. Please read the instructions below to find out how to submit your contest entries through Submittable.*
2021 Deadline
The deadline for the Long Poem Prize is February 5, 2021 at 11:59pm PST.
Read about our 2019 winners: Erin Soros and John Elizabeth Stintzi.
Judges
Meet the judges for the 2021 contest:
Read the judges' bios here. Get inspired! Click on the judges' names to read interviews with them on what they're looking for in a winning long poem.
Book Prize
In addition to the $2,500 in prize money, we're giving away poetry books to one lucky contest entrant! All you have to do is submit your work to the contest, and you'll be automatically entered to win this fantastic book prize.
Salt and Ashes by Adrienne Drobnies
Re-Origin of Species by Alessandra Naccarato
Visual Inspection by Matt Rader
Pockets by Stuart Ross
Guidelines
Each entry must be a single poem or cycle of poems that will occupy between 10 and 20 printed pages when published in The Malahat Review. Poems published in the magazine occupy no more than 36 lines per printed page, a line-count that includes all spaces and breaks between lines, stanzas, and sections. In a cycle of poems, each poem must begin on a new page, even if the preceding poem ends before the 36th line is reached. In a multi-part poem, the author may decide whether or not each section begins on a new page. **Click here for further information about the 36-line rule.**
There are no restrictions on subject matter or aesthetic approach.
Collaborative long poems by two or more authors are eligible.
All entries are judged anonymously (no identifying information is to be included on any poem submitted).
Multiple entries are allowed (at a reduced fee, if paid for at the same time as the initial entry: see Entry Fees, Additional Entries, and How to Submit below).
Please note that entrants who submit more than one long poem to the contest in the same year may be shortlisted for only one entry and may win only one of the two prizes.
Entry Fee
$CAN 35 for each entry from Canada
$CAN 40 for each entry from the USA
$CAN 45 for each entry from elsewhere
$CAN 15 for each additional entry (any writer, any country)
See How to Pay (below) for detailed instructions.
Entrants receive, for themselves or a friend, a one-year print subscription to The Malahat Review (for the initial entry only; no subscriptions are available for additional entries made along with the initial entry). Digital subscriptions and digital/print bundle subscriptions are not available through any of the magazine's contests.
Additional Entries
To receive the reduced entry fee(s) of $CAN 15.00, any additional entries must be paid for at the same time as the first entry; such additional entries should be submitted online within 24 hours of the initial submission. The same guidelines apply to additional entries as to the initial submission.
Eligible Entries
No work already published (even if only excerpted, or even if revised since original publication), already accepted for publication, or simultaneously submitted elsewhere is eligible for consideration. The Malahat Review considers any appearance in print or online to be a publication, whether the form of publication be a newspaper, newsletter, magazine, anthology, chapbook, book, website, personal website or blog, Twitter, Facebook, or other suchlike forum for public circulation. This restriction on eligibility applies regardless of the size of the print run or the extent of the circulation of previously published work.
Failure to comply with these criteria for eligibility will immediately disqualify any entry, regardless of when the ineligiblity is discovered in the process of adjudication (submission, processing, screening, shortlisting, final judging). The entry fee for a disqualified entry will not be refunded, and the entrant will still receive a one-year subscription to the magazine.
Notification
The two winners will be notified by email. Other entrants will not be notified of the judges' decisions.
The shortlisted finalists will be announced in late March 2021 on The Malahat Review's website and social media accounts. The two winners will be announced in April 2021. Both winners will be interviewed, and the interviews will be published subsequently on The Malahat Review's website, and in the July 2021 edition of Malahat lite, the magazine's monthly e-newsletter.
The two winning entries, and only the winning entries, will be published in the summer 2021 issue of The Malahat Review.
How to Pay
Payment must be made online through The Malahat Review Store (if you do not have a credit card, you can pay by cheque or money order: see below).
Unless you are paying by cheque or money order, you must pay the entry fees before making your submission, since you must include your ORDER # with your submission.
If you are unable to pay by credit card, you can mail a cheque or money order (made out to The Malahat Review) in $CAN or $US to The Malahat Review, McPherson Library, University of Victoria, PO Box 1800, Stn CSC, Victoria, BC, V8W 3H5, Canada.
If paying by cheque or money order, you must indicate "cheque" or "money order" as required on the submission form.
Online payments will not be accepted after the contest deadline (if you have any problems with such payment, please write to malahat@uvic.ca). Payment by cheque or money order must be mailed with a postmark date of no later than 5 February 2021.
Go to our online store to pay your contest fee(s).
How to Submit
Only online submissions made through The Malahat Review's Long Poem Prize portal on the Submittable website will be accepted.
Acceptable file formats: Word (.doc or .docx) or PDF only.
If paying by credit card, you must pay before you submit, since you will be asked to provide your ORDER # with the submission of each entry.
If paying by cheque or money order, you will be asked to specify which form of payment with the submission of each entry.
You can make only one entry at a time on the Submittable webpage; to submit additional entries, whether at the reduced rate (paid for at the same time) or at a standard rate, simply follow the same process as with the initial submission (the ORDER # will be the same for additional entries paid for at the same time as the initial submission; it will be different for an entry or entries made at a later date, since these require the full fee).
You can SAVE a DRAFT of your submission before clicking on the "SUBMIT" button (at the bottom of the page) to make the actual submission.
Click on the Submit button below and follow the instructions in order to submit to the Long Poem Prize contest on Submittable:
Previous Long Poem Prize Winners
Erin Soros
John Elizabeth Stintzi

2017

John Wall Barger
Délani Valin

Gary Geddes
Genevieve Lehr

Claire Caldwell
Kim Trainor

2011
2009

matt robinson
Marion Quednau (won Gold at the 33rd Annual National Magazine Awards)

2007

Aurian Haller (won Gold at the 31st Annual National Magazine Awards)
Harold Rhenisch

2005

Margo Button (won Gold at the 30th Annual National Magazine Awards)
Harold Rhenisch (earned Honourable Mention at the 30th Annual National Magazine Awards)

2003

Roseanne S. Carrara
Ann Fisher-Wirth

2001

Sylvia Legris
Alice Major

1999
1997

Brian Bartlett
Stephanie Bolster

1995

Barbara Nickel
Esta Spalding

1994

Marilyn Bowering
Rhea Tregebov
Sue Wheeler

1993

Pain Not Bread
Matthew Remski

1992

Mia Anderson (won gold at the 1992 National Magazine Awards)
D'Arcy Randall
Marjorie Stelmach

1991

Brian Bartlett
Crispin Elsted
Janice Kulyk Keefer
Jennifer Mitton

1990

Elisabeth Harvor
Marjorie Stelmach
Stephan Torre

1989

Angela Ball
Mary di Michele
Douglas Burnett Smith

1988