A Rhythmic Contrast: Karla Hirsch interviews Bren Simmers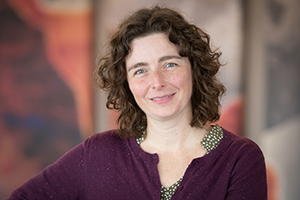 Volunteer Karla Hirsch talks with Bren Simmers, one of two winners of our 2023 Long Poem Prize with her poem, "Cloud Études" (featured in summer issue #223). They discuss wrestling with ongoing revisions, writing during an uncertain period of life, and the challenge of talking about poem-making in a poem.
Bren Simmers is the author of four books, most recently If, When (Gaspereau Press, 2021). She is the winner of the 2022 CBC Poetry Prize. Her poetry collection Spell "World" Backwards is forthcoming with Gaspereau Press in 2024. She lives on Epekwitk (PEI).
[photo credit Mike Needham]

Congratulations on being one of the 2023 Long Poem Prize winners! I thoroughly enjoyed reading your poem and being drawn in by it. Though it's often fragmented, and you play with the deconstruction of language so much, I found it incredibly coherent in imagery and tone, creating a very particular rhythm and soothing atmosphere. Could you talk a little about creating that atmosphere?

The poem is set in Summer Lake, an alkali lake in Southern Oregon, where I spent five weeks at an artist residency. My windows looked out onto a wide-open expanse of sky, dry grasses, and a shallow lake ringed by low hills. The sky filled the frame and if you looked long enough, you could almost see the curvature of the earth. Naturally, the sky became the focus of my attention—clouds in particular—being everchanging and in flux, as was my life at the time.

There is a rhythmic contrast between the "cloud" poems and the prose footnotes. The "clouds" are more disjointed as they are constructed from randomly chosen words from the footnotes. They tend to be more image-based and associative. Even though the footnotes were constructed in sentences, I removed the punctuation to create a sense of breathlessness or movement.
Your poem works with different structures—the long, prose-like footnotes with the broken-up stanzas. There's a movement here that mirrors the movement of clouds across a sky—reminiscent of ocean waves at times—and which flows through the entire poem. I'd love to hear a little about the structure of the poem and your process of finding it.
It took five years and many iterations to find the right structure. "Cloud Études" began as a series of prose entries that I later revised. During the pandemic, I decided to deconstruct my habitual ways of writing by using these entries as a source text for cut-up poems. I physically cut each prose entry into individual words and placed them in an envelope. I then applied an arbitrary formula based on percentage of cloud cover to pick a certain number of words and rearrange them into cloud shapes.

Months of Tetris on the kitchen table ensued. I took pictures, picked the best iterations, then paired them with the source text. I reordered and deleted pairings as I wrestled with ongoing revisions. Once I had an overall arc that worked, I massaged the structure to present the two elements in conversation. I started with facing pages, the source material on the left and poem on right. Then poem on the left and prose on the right, but ultimately found the material too repetitive. Next, I tried deleting the source material, though the clouds lacked context when presented on their own. Finally, I experimented with footnotes which allowed the clouds to be the visual focus. At a late stage, I wrote "How to Write a Cloud" as a way for the reader to enter the poem.
Speaking of the process, I'd love to hear more about how this poem came to be and how you started working on it. Was it a specific image that came to you, or a form you wanted to explore? Was it motivated by the idea of cutting "the known into the unknown,/[forming] your own cloud"—or did the form take shape only after following the story you wanted to tell?
I wrote "Cloud Études" during an uncertain period of my life. I was in transition, about to move across the country to the East Coast after a few months of touring with my love and sleeping in our compact van. We were attempting to build a life with art-making at the centre. This meant leaving my family and friends and heading into the unknown. The poem began an exercise in combating anxiety, in sitting with what is. Each day, I sat down and wrote about the clouds (both inner and outer). Years later I had the idea to deconstruct or disrupt the certainty of the prose poem through the process of cut-ups. From that initial leap, the form and the structure evolved. I researched clouds and cloud shapes and let those inform the arrangement of the words on the page.
Judges Jennifer Lynn Still and Bertrand Bickersteth said about "Cloud Études" that it "offers poetry as shelter." I would even go as far as to say it offers language and the communities we form through (written and writing) language as shelter. Could you talk a little about the story-within-a-story footnotes and how you came to it in the process of this poem?
The communities we make for ourselves, our writing habits and spaces do offer shelter. In this poem, I wanted to explore the creative process and the relationships that allow art-making to happen. That meant venturing into territory I often avoid, talking about poem-making in a poem. Despite my squeamishness, métier writing has its value. We need those conversations about inspiration, process, and how artists support themselves. In "Cloud Études," I wanted to be transparent about the labour involved in art-making and how the work benefits from knowledge exchange and connections with other artists.
What was the last mind-blowing poetry discovery for you—perhaps a writer you fell into, or a book you came across that moved you more than you expected?
Anything by Ada Limón! Her interview with Krista Tippet for On Being is one of the best I've heard in years. Currently, I am devouring Lisa Robertson's Boat and Diane Seuss's Frank: Sonnets. I would also recommend Poetry Unbound: 50 Poems to Open Your World by Pádraig Ó Tuama (and his Poetry Unbound podcast) along with the gorgeous anthology Cascadia Field Guide: Art, Ecology, Poetry, edited by CMarie Fuhrman, Elizabeth Bradfield, and Derek Sheffield.
Karla Hirsch
* * * * * * * *