WordsThaw 2013
1st-Annual Spring Symposium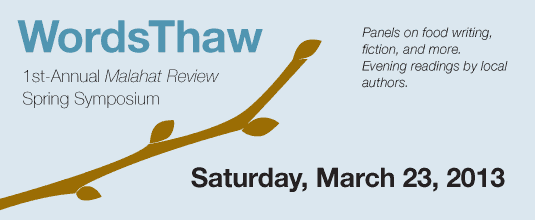 10:00 a.m. until 10:00 p.m.
University of Victoria
Human & Social Development Building
Room A240
An Intellectual Icebreaker at the Cusp of Spring
Celebrate the Spring equinox by spending the day and evening of Saturday, March 23rd with The Malahat Review and nineteen of B. C. and Alberta's finest writers.
WordsThaw 2013 opens up a world of fresh ideas through three thought-provoking panels during the day on the social and private worlds of fiction, on how the new food writing is facing up to a changing environment and challenged food supply, and on poverty writing as both a source of inspiration and a call to action.
In the evening, come listen to Words on Ice: an exciting lineup of new and established voices, many of whom are national and international award winners for their writing, including three of the recipients of The Malahat Review's University of Victoria 50th-Anniversary Prize.
WordThaw's full event pass includes a one-year subscription to The Malahat Review. If you're already a subscriber, come anyway and gift your symposium subscription to a friend. If you're only able to join us at Words on Ice in the evening, we still love you. You can pay a separate admission price for the reading only at the door and you'll also receive a free copy of our current issue, #181 Winter 2012.
And students and Friends of The Malahat receive a discount on both the full event pass and the evening reading!
The Malahat Review gratefully acknowledges the support of WordsThaw 2013's many sponsors, including Focus magazine, the Victoria Writers Festival, and CFUV.
We look forward to seeing you on Saturday, March 23rd. Let's break some ice!
Tickets
Full pass (includes three panels plus evening reading):
$50 regular
$40 students and Friends of The Malahat
If you do not wish to pay online, you can download a mail-in registration form here.
**All full passes include a one-year subscription or extension of your current subscription (or Friends membership) to The Malahat Review
Your pass and first issue of your subscription (for new subscribers) will be ready for you to pick up at the registration table at 9:00 a.m. outside HSD A240 on March 23.
Daytime Panels
10:00 a.m. - 12:00 p.m.
Zoom in, Zoom out: Focus on Fiction
Sponsored by
Focus magazine
Moderated by
Amy Reiswig
, with panelists
John Gould
,
Yasuko Thanh,
and
Daniel Griffin
Does fiction need to expose the broader world through social and/or historical commentary in order to be relevant or can it be equally relevant by shedding light on its characters' inner worlds?
More info about this panel
1:30 p.m. - 3:30 p.m.
A Sustainable Feast: The New Food Writing
Join moderator Don Genova and panelists Rhona McAdam and Kimberley Veness as they explore the local, sustainable good food movement.
More info about this panel
3:45 p.m. - 5:45 p.m.
In Our Names: Writers on Poverty
Hosted by the Victoria Writers' Festival
Join panelists Patrick Lane, Madeline Sonik, and Sylvia Olsen as they speak on writing from and about poverty. Moderator TBA.
More info about this panel
Evening Reading
8:00 p.m.
Words on Ice
Doors: 7:30 p.m.
Reading: 8:00 p.m.
Admission (for those without a full pass):
$10 (at door) regular
$5 (at door) students and Friends of The Malahat
*Admission to Words on Ice includes a free copy of our current issue, #181 Winter 2012.
Readings from the winners of our UVic 50th Anniversary writing contest:
Pamela Porter (1st place, poetry)
Laura Kraemer (1st place, fiction)
Katherin Edwards (2nd place, creative nonfiction; 3rd place, poetry)
And local authors:
Bill Gaston, Marilyn Bowering, Lorna Crozier, Lee Henderson, and C. P. Boyko.
More info about Words on Ice
All panelists and readers' books will be for sale in the evening courtesy of the UVic Bookstore.
*Read Amy Reiswig's article about WordsThaw 2013, "A Meeting of Minds on Being Human" from the March 2013 edition of Focus magazine here.

**On Tuesday, March 12th, listen to some of our panelists on U in the Ring, CFUV 101.9 FM.
UVic parking rates ($2.25 flat rate on Saturdays) and map here
Victoria Transit information here
Event Sponsors: