To Let Things Unfold: Samantha Ainsworth in Conversation with Arleen Paré
Malahat poetry board member Samantha Ainsworth talks with Arleen Paré about the practicality of poetry, poetic influences, and the flaura and fauna in her poem "Come the Ungulate," published in Issue #200.
The Malahat Review's Issue #200 is our fiftieth anniversary issue. It features Victoria writers past, present, and future. Be sure to check out the Issue #200 page for book reviews, interviews, and a complete list of contributors.
Your new book, The Girls with Stone Faces, recently published by Brick Books, intimately explores the lives of Canadian sculptors Florence Wyle and Frances Loring, their relationship, their work, and the era in which they lived. To chisel away at such a massive subject and to finish with a tidy book of poetry is an enormous undertaking and accomplishment. Can you explain what drew you to these two women? And how their lives and work guided you through your process?
The neo-classical sculpture by Florence Wyle and Frances Loring is astonishingly beautiful.  I encountered it for the first time about five or six years ago at the National Art Gallery in Ottawa in an exhibit of Canadian sculpture.  I was smitten.  The room was filled with their work.  I was even more compelled to consider them and their art as a poetry project when I realized that these sculptors were women.   I was even more persuaded after reading a small early biography, The Girls, which belonged, fortuitously, to my partner, Chris Fox.  A newer, more comprehensive biography came to my attention while I was working on the project, and guided me through parts of their lives together.  And of course, I had fallen in love with Florence Wyle's Torso, and this sculpture threaded the book together.
I am fascinated with your poem, "Come the Ungulate" which appears in the most recent issue of The Malahat Review (#201). The poem speaks to the resilience of nature, the return of deer (and other creatures!) to a land of settlers. Your poem ambles along at a deer's pace, sometimes hurrying at the possibility of danger, sometimes slowing to enjoy a good nibble on a prized pear or cherry tree. The subject of deer in Oak Bay and Victoria gardens has become a subject of much controversy. Please comment on this and your choice to encapsulate it within a poem.
I am working on a new book-length poetry project called Earle Street, which is about, of course, Earle Street, where I live.  There are deer on this street; now in fact, they have become a multitudinous presence. So I thought they belonged in this street-based manuscript, which led to "Come the Ungulate."  Whether you think deer belong on the street or not depends heavily on how much you enjoy tulips.  For the record, I do enjoy tulips — and hostas and lilies and begonia and . . .
Your poetic works garner respect, prizes, and awards; achievements include a nomination for the Dorothy Livesay BC Book Award for Poetry, the Victoria Butler Book Prize (2008), the 2014 Governor General's Award for Poetry, and the CBC Bookie Award. Have you always been interested in (writing) poetry? What drew you to this genre?
I didn't start writing poetry until I was in my fifth decade.  Nor did I read very much poetry.  My decision to start writing poetry was a practical decision, strangely. I say "strangely" because poets are not known for their practicality.  It happened this way: in a moment of hubris, I began to write a novel immediately after I had completed my MA degree, partly because writing the MA thesis was, strangely, such a rewarding experience. I was working nine-to-five at the time.  I joined a writing group.  But I could not keep up sufficient novel production to bring coherent novel passages to the monthly writing group, so I wrote poetry for the group instead.  Poetry is usually, blessedly, shorter.  And so, I became a poet. 
Such success as yours is rarely spawned from still waters. Your impressive education: a Masters of Fine Arts from the University of Victoria, a Masters of Social Work from McGill University, and a Masters of Arts from the University of British Columbia in Adult Education, shows an obvious focus and intellect. Your career resume is equally as impressive. How has your experience serving as Director of Mental Health Housing for Vancouver Coastal Health and Board Member for Victoria Cool Aid Society impacted your writing?
Twenty years working long hours in government bureaucracy made me hungry, desperate, for creative activity, but it also gave me the focus and energy to start, to continue, and to complete creative projects, to persevere with whatever creative projects might interest me. It gave me a certain kind of confidence and discipline. It helped me sort the wheat from the chaff in terms of my time.  I work on what interests me, but only when I want to. Mostly I want to write most of the time.  My discipline includes an ability to be patient (government policies and projects unfold at a snail's pace), to let things unfold. It gave me stamina. These are useful qualities for a writer. In addition to that, of course, because I worked in housing for people with mental illnesses, it gave me work that was socially useful.
Being on the Board of Directors for the Cool Aid Society allows me to continue to contribute in that way and to be part of the concrete world.  I feel good about it because the Cool Aid Society — the work it does with people who live and who have lived on the streets — is pretty darn terrific.
Would you give us a little insight into your life, perhaps a snippet of a momentous or life-changing situation or occasion?
Three things:
1. When I was ten or eleven, I shook hands with Fidel Castro, one of my father's great heros, at the Dorval Airport.  We lived close to the airport. I have dined out on that a number of times.
2. The Women's Movement of the seventies changed my life entirely, and for that I am grateful.  I know I'm not alone in that, but the Women's Movement shook us all up, a whole generation.  Nothing was ever the same again for me.
3. I just returned from a five-day meditation retreat.  I have been practicing insight meditation since 1998.  This practice has calmed my mind enormously, but I have miles to go.
Which writers have most influenced you and your work?
My two major teachers, Lorna Crozier and Patrick Lane have directly influenced my work for years.  I am thankful for their generous teaching and deep understanding of the craft and meaning of poetry.  Tim Lilburn and Steve Price were also invaluable teachers.
I would love to write like Gerard Manly Hopkins; his writing is a beacon for me.  As are the writings of Dionne Brand, James Wright, Don Domanski, Elizabeth Bishop. . . For starters.
Your poetry is studded with fabulous diction and sensory delights. One example from many is in your new book, The Girls with Stone Faces. Lines from the poem, "On Relief in the Thirties" read:
"and eggs   always eggs / from the chickens that peck the backyard / or there might be sardines cats licking the tins / tongues risky on the razor sharp lids."
One can almost hear the rough rasp of a cat's tongue, and at the same time feel the "razor sharp lid" on one's own tongue! During your poem-writing process, do such lovely word clutches evolve into being? Or do you keep a Moleskine notebook (or the like) of observations from which to pluck ideas?
Thanks, Samantha.  I used to keep a notebook of words that I admired, unusual words, evocative words, precise words.  There are so many words to admire, and poetry is so dependent on words, word choices, the placement of words in their "clutches," as you say.  But I didn't ever use this notebook in ways that I had envisioned. I suppose I would have to admit that I have effectively abandoned it.  I should review the notebook and write a poem using all the beguiling words that I had once netted.  But in fact, the words and word clutches evolve as I write a poem – or as I revise it.  Or as I revise it again.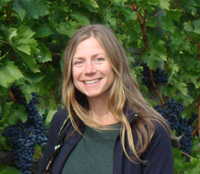 * * * * * * * *