Poetry Review by Liam Burke

Phil Hall, Niagara & Government (St. John's: Pedlar, 2020). Paperbound, 128 pp., $20.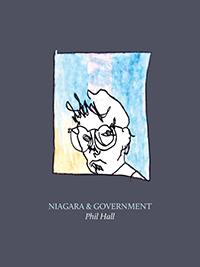 Phil Hall's Niagara & Government is, at its core, a collection investigating how a poem might be constructed and what it can do for the writer. From the first lines of "typo," Hall invites us to consider the poem as a project of archaeological etymology: "the sward become skin the sweard." Even the epigraph is so constructed: a simple twoword piece consisting of "tatibitexto," taken from Brazilian experimental poet Haroldo de Campos, meaning "stuttertext," and "pulsional," borrowed again from Portuguese and from drive theory, related to the unconscious and impulsive spark within us that Freud would have called the "id."

Far from being clever wordplay, however, Niagara & Government asks us to explore why one might arrange words in just such a way, considering the poem as a piece of architecture and how the most minor of changes can radically alter its structure, and therefore its meaning. Hall, vulnerable, offers us insight after insight into his writing
demons and his trauma. Niagara & Government is Hall's eighteenth collection of poetry, and he reveals himself in equal measure as gifted a student as a master. He is equally comfortable drawing from French or German as he is reinventing English, and writes in response to an array of artists across media, including Joan Miró and jazz luminary Charlie Haden. Always self-aware, careful to never bloat the poem, Hall lets an exploratory and self-effacing craft bear itself out over the course of the collection.

The book is split into seven sections: some strongly conceptfocused, some only tied by their liminal exploration of related themes. Section II is the long poem "Local Produce," which deals with the loss of youth and squandering of talent of Canada's First World War dead and Hall's own immigrant ancestors. Within it, Hall hints at a dissected villanelle, inviting back key phrases and lines and altering their cadence, their formulation or their surroundings, acting like a soloing drummer with wonder and reverence for the rhythm of the words he uses. Section III, a sequence entitled "Stan Dragland's Wall," reads as exegesis and critique: "Wall is an invite unto intricacies / that point back to a reassessment of surfaces." The piece reimagines the mythological Green Man as a back-alley squatter in a world that has squandered its natural materials, and warns us of the ruin that must follow from mass consumption and climate change.
Section IV consists of the long poem "Bottom," previously published as a short-run chapbook for the HIJ Reading Series. Marking a tonal shift in the collection, "Bottom" deals with Hall's struggle with drinking, a fight Hall admits he inherited from his parents. In characteristic meta-poetry, he confronts our tendencies to dance around our issues, never confronting them: "Easier to play with words / to let language break as if clever / than to face that song no one has ever heard / we all sing to ourselves a version of." Later, Hall speaks at length about the long tendrils of addiction and how we can remain enslaved despite declaring sobriety: "I was deaf all was bleary airless // this is Bottom I thought but was wrong / I was wearing the hole in Bottom // the bottle still had it over me / I was its tongue."

After "Bottom," we are laid bare, no conversation taboo. Through the back half of the book, Hall explores the poem as a way of carving into old wounds to heal. He revisits the confessional through the pastoral to ruminate on the inevitability of intergenerational trauma and the symmetry of history. In "Dream Babies," he imagines his parents as his oldest children, invoking and subverting Heraclitus' river which we can never step into twice. He explores his broken relationship with his son in "Primitive" and in "Distance Is Health," works of letting go that explore how to forgive and forget by degrees. At his most unflinchingly candid, in "Ars Poetica," Hall discusses his experience of abuse as a child. Even in this moment, he is darkly humorous and with an eye on the future, invoking the very process of writing, making art from suffering, to make sense of the damage and to try to find some way to cast it forward.

These are not pieces that will shout their meaning from rooftops, nor reveal all of their secrets at once. It can be easy to become lost in the simple joy of Hall's wordplay; after all, poetry of this weight rarely allows us to breathe as often as Hall lets us. Still, these are poems that demand careful attention, with stories within stories to be told to the patient listener. The last piece in the collection, "A Great Beauty," sees Hall taking stock of all the beauty he can find: "yet despite everything
we still love our small blunt first words / they only look simple but are perennial riddles fingerings / we still find in words like union or campesino the great beauty / & elegance & defiance they had." Yet this is not a collection that often attempts to spin joy and beauty from trauma, to snatch colour from its jaws. Occasionally, it demands that we sit in uncomfortable silence with its messages. If there is one lesson we should take away from Niagara & Government, it is that healing in full is sometimes impossible; sometimes, survival and persistence are as much as we can hope for.