Breakfast
Jam (Near Herald St and Government). Hearty diner style breakfasts and lunches, big portions, some more American style options like biscuits and gravy. Most breakfasts are $10-$15 and you won't leave hungry. Can be a wait on weekends. Also serves lunch.
Relish (Pandora Ave between Quadra St and Vancouver St). Good, fresh, breakfast and lunch food. A lot of in house made things, like sausages. Reasonably priced, a small room. Bit of a hike from the hotel, but worth the walk. Breakfast possible for under $10, but more likely $15.
Rebar (On Langley, near Bastion Square). Victoria's vegetarian institution, though some seafood-related options available. Good for all three meals, with many choices under $20.
Lunch
Choux Choux Charcuterie (on Fort St. between Blanshard and Quadra). As much a deli as a restaurant, but really good food and a lunch special every day, almost always for less than $15.
Chorizo & Co (on Fort between Blanshard and Quadra). Fresh tasty Spanish options, often under $10 for lunch. Serves excellent coffee too.
Dutch Bakery (on Fort between Douglas and Blanshard). Another Victoria institution, fun for the atmosphere and communal seating. Food is reasonable and people can order unusual things like croquettes. Great takeaway baking too, both sweet and savory.
Hernande'z (Yates St Arcade, between Douglas and Blanshard). Excellent tacos and burritos. Fast and friendly, locally sourced. Lunch under $15, even under $10 is possible.
Uchida (Nootka Court, off Courtney St.). Fresh Japanese food—rice bowls with tuna, salmon, or chicken. Local vegetables. Go early for lunch as tends to run out of food.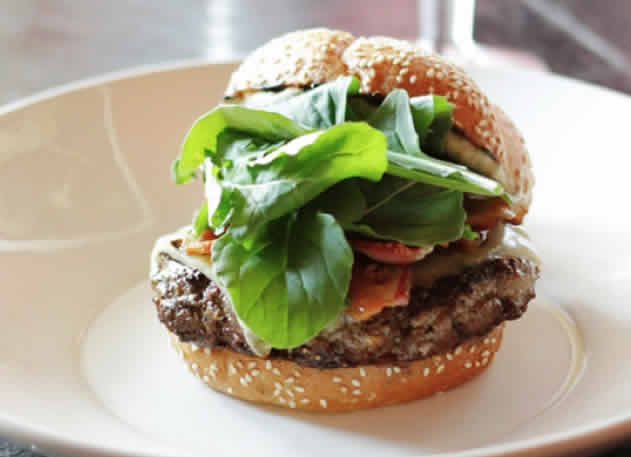 Hamburgers (Local Independents)
Pink Bicycle (on Blanshard between Fort and Broughton). Gourmet option, with many choices of both burger (beef, pork, mutton, salmon etc.) and topping. Excellent sides as well. Not a big room, so can be a wait, but happy to do takeaway and $15 gets you meal. Licensed, too.
Big Wheel (On Cook @ Mackenzie, in Cook St. Village). More like the ethical fast food option. Simple menu, but licensed and quality food. Under $10 is possible.
Bin 4 (Corner of Vancouver and Yates). Tasty and creative. Licensed and good late night specials. $15 or so per person.
You're in Canada and you want Poutine:
La Belle Patate (on Esquimalt Road). Authentic Quebecois poutine. You may go basic or try numerous variants. Possible to be overfull for under $10. Terrible atmosphere, but great for takeout. Good hamburgers, too, but too far to walk from hotel.
Lunch/Dinner
Pig (Corner of Blanshard and Johnson). My favourite bbq (as in slow cooked, Carolina-style barbecue) in Victoria. Possible to get a good lunch or dinner for under $10, but $20 if you want sides and a beer.
Foo (Corner of Blanshard and Yates). Takeaway Asian street food kind of place, though there is a counter or bar to eat at. Good meal possible for under $10.
Foo Ramen (on Broughton between Douglas and Blanshard). Sister to Foo, stylish noodle house with affordable options.
Red Fish Blue Fish (Inner Harbour). A restaurant in a shipping crate. Tasty,cheap local seafood. Lines can be a pain and there isn't always somewhere to sit, but it's good, fresh food. Meals possible for under $10.
Pizza (Local Independent)
Prima Strada (Cook St in Cook St Village). Thin crust, high-heat pizza. Licensed—most pizzas around $15 and a pizza plenty for one person. Very tasty.
Pubs
Spinnakers (in Vic West short kayak trip from hotel, longish walk). Brews own beer. Solid food. Maybe Canada's first brewpub? Local institution. Nice views in daylight.
The Guild (on Wharf between Yates and Bastion Square). Newish entry. Good draft selection. Trying hard to be an English pub, but decent food in my experience and a nice room. A little pricey.
The Irish Times & The Bard and Banker (Same owner, a block apart on Government St downtown). Pretty decent food and drink, often a lively atmosphere, possible to sit outside in summer at both places. A touch touristy, but popular with locals as well.
Canoe (Swift St, just off of Wharf). House-brewed beers a touch mediocre; decent food and huge outdoor space on water, so nice for summer evenings.
Swans (Wharf St and Pandora). Another Victoria institution. Decent house-brewed beer and reasonably good food.

More Formal Dining
Brasserie L'ecole (On Government between Fisgard and Herald). For me, Victoria's best restaurant, and it's not close. Great imported beer list, creative with wines. Fairly simple menu, but always changing. Steak frites done right. Dinner possible for under $20, but with drinks etc. more likely to be at least $40 a head. No reservations. Waits can be long.
Ulla (on Fisgard between Store and Government). Nice room, creative cooking. Entrees more like $25-$30 each. Small menu but good choices.
Café Brio (on Fort between Quadra and Vancouver). Longtime success story. Good service, small menu with fresh choices. Nice room. Not cheap though. Lovely patio for summer nights. Expect $30 a person for entrees.
Zambri's (on Yates between Blanshard and Quadra). Probably best Italian food in Victoria. Choices range from simple pizzas to elaborate Italian classics like Osso Buco. Pastas a real strength. You can spend a little or a lot, but a meal under $20 is possible. Also open for lunch, when it's cheaper.
Ca Va Bistro (in Fernwood, by Belfry Theatre). Small place, but creative cooking and friendly feel. Most entrees around $25. Also open for excellent brunch on weekends with many items under $15.
Stage (also in Fernwood, near Belfry Theatre on Gladstone). Wine bar with small plates. Fine wine selection by the glass and food often excellent. Most people need 3 plates, so it's not cheap. Nice room and lively at night.

Cocktails first, Food second
Little Jumbo (on Fort, between Langley and Wharf). Pleased with itself. Often very good drinks. Food could use a little help, but nice room and lively atmosphere.
Veneto (corner of Pandora and Douglas). Excellent cocktails and reasonably sound food. Bar snacks to share for under $20.
Clive's (in Hotel Victoria). Pretty solid cocktails and hotel quality food for reasonable prices.
Coffee (Local Independents)
Habit (2 downtown locations). Very good coffee. Pandora St location a particularly nice place to hang out and do some work or reading.
Discovery (one in James Bay not far from hotel, one on far north side of downtown). My favourite coffee in Victoria. Has doughnuts but they're not nearly as good as the coffee.
Fantastico (Tre Fantastico on Humboldt between Blanshard and Quadra). Serves excellent coffee and also quite good food.
Macchiato (2 downtown locations). Excellent coffee and good fresh food supplied by Italian Foods Imports