1870s

The opening of the decade saw the colony of British Columbia join Canada and in 1871 Victoria became the capital of the new province. Canada was the best thing going in Victoria for most of the decade, as the new country brought with it a federal building, a graving dock at the naval base, and endless survey teams trying to locate a route for the railway that confederation promised.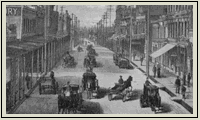 But the 1870s too was a long decade of delayed hopes and dashed expectations. The first rail was not land until 1880, and by that time Islanders were almost apoplectic, and secession was threatened in the legislature. Victorians appealed to the British crown and the crownresponded with the Governor General, Lord Dufferin the Queens representative in Canada, who arrived in Victoria to calm the waters in 1876.
Slowly the Queen emerged from here deep mourning and in 1877, was persuaded by Prime Minister Benjamin Disraeli to mark her 40th anniversary on the throne by accepting the title, Empress of India.