1880s

When the news that Victoria would not be the terminus of the new railroad, the citizens again went blue in the face. Another Governor Gerneral was dispatched in 1882, but this time it was his wife who drew the Victorians. She was none other than Queen Victoria's daughter, Princess Louise. Some proposed that Princess Louise should be invited to reign over an independent monarchy of Vancouver Island.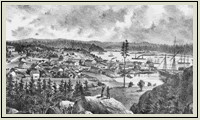 If Victoria had lost the great prize of being terminus of the transcontinental railway, its construction brought its own kind of gold rush to British Columbia through the first half of the 1880s and Victoria benefitted more than any other city from the investment. The City Add to the tens of thousands of labourers and millions of dollars of materials that flowed through the city, was the construction of an island railway connecting Victoria to Nanaimo.
Victoria became a major manufacturing centre, building rail cars, train tracks, steam engines, cannery machinery, ships, and consumer items as well.
The Chinatown that had been born with the gold rush exploded as close to 20,000 Chinese labourers flowed through the city on thier way to and from the railway construction. With the arrival of the first train in 1885, many laid off navvies returned to Victoria and made it their home. The shipping links with China and the large Chinese population turned opium into one of the city's most profitable industries.
Victoria was booming and had lots to celebrate during its fiftieth anniversary of the Queen's reign was marked in 1887. Her Golden Jubilee was marked with great fanfare in the city.
Research Sites
Created by Chris Dykstra, Andrea Suttie, Jowett Yu, Colin Bailey, Devon Carter, Erin Kelly.
A snapshot representation of Chinatown in and around 1885 displaying the relationship between Victoria's Chinatown and the larger imperial experience.
Created by Melissa Quantz
This examines the waterfront of Victoria in and around 1881 with special attention to the businesses, entrepreneurs and their establishments.