Poetry Reviews by Michael Roberson

Patricia Young, Short Takes on the Apocalypse (Windsor: Biblioasis, 2016). Paperbound, 122 pp., $18.95.
Susan McCaslin, Painter, Poet, Mountain: After Cézanne (Toronto: Quattro, 2016). Paperbound, 78 pp., $18.00.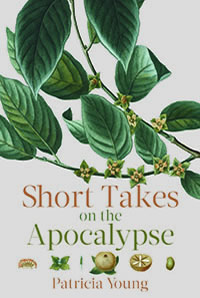 All of the "polished and pretty" poems in Patricia Young's new collection, Short Takes on the Apocalypse, riff on epigraphs, many of which offer advice on writing. Inevitably, the poems serve as exercises, or exorcisms, of these offerings, as in "The Course of True (Animal) Love," which, despite Andrea Di Salvo's advice in the epigraph about the "overuse of clichés," employs a whole host of well-wrought idioms and phrases. Overall, the poems demonstrate a thematic cleverness and a formal range. A few examples include an ode to a tumbleweed, a pantoum meditation on artistic process, an ekphrastic rendition of a Chagall, and a playful abecedarian celebrating a child's imagination. Many of Young's best poems are prose-like, and even her broken lines preserve syntax and phrasing, rather than breaking for optimal effect. For the "average moviegoer," line breaks alone might be enough to signify genuine poetry, but for this reader, it's the rarer specimens in prose, like these from "Cabin Time" that signal its presence: "Get out the secateurs, throw down the stepladder, the blackberries are ripe. In dreams my voice flies up like a forkful of hay." Young chooses to bookend her collection with prose poems, and for me, they represent the strongest works. Unhindered by line breaks, they coalesce densely around image, serving as parabolic portraits, or, what Young calls, in her prose poem "The Pink Sea,"  "a scene caught between waking and sleep." The allure of her "short takes" really make me consider how I know when I am in the presence of real poetry. How do I differentiate between showy appearance and the genuine article? 

Near the end of the second half of the collection, Young answers this question herself, positioning the "New Poetry" against the "Old Poetry" in a "Literary Soiree." The "New Poetry," she believes, only "collides with itself."  "Indifferent, "elusive," and "self-sufficient." This poetry celebrates the "beautiful" and "complex." The "Old Poetry," by contrast, "count[s] the tree's rings." Vulnerable, traditional, and tender, this poetry preserves "the postcard lying in the gutter" and the "woman kneeling in a radiated field." While Young poses the "New Poetry" as a straw man in her argument, I still admire her adeptness at crystalizing the poetic image. Consider the following snippets from "Forest Chronicle" and "Marginalia" respectively: "Deer bones lie in a perfect skeleton / of undisturbed sleep. Lightning strikes the dark chronicle"; "a cat dipped its forepaws in a pot of iron-gall ink." Moreover, cheer on the following masterful use of caesura from "Ten Years After the Divorce": "[W]eightless flecks of gold. Two boys dart in front of me." These examples succeed because they resonate beyond the economy of the language and beyond the constraint of line break.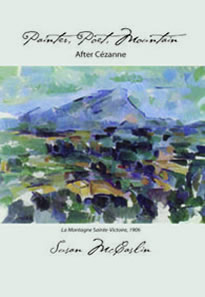 While the resonating images in Young's poetry compel me most, in Susan McCaslin's new book, something far more formal registers as genuine.  McCaslin's Painter, Poet, Mountain: After Cézanne operates in the ekphrastic tradition and offers renderings of the painter's works and life, but it also investigates how that rendering might occur, "finding words for spaces where palette and pen converge." McCaslin opens her lines "to themselves," allowing "broken phrases," and "gravid geometries," to demonstrate Cézanne's own late style—a style that anticipates Modernist abstraction. McCaslin often spreads her poems to the edges, and when she breaks a line she releases it into the space of doubt. Lines leap out and down, untethered to the margin, in hope that the "gaps" and "absences" in the poems "might contain / more than we know." I am impressed how breaking lines and thinning syntax can evoke a sense of hesitation, or meditation, even a "crudeness," so that, like Cézanne, McCaslin doesn't "mind showing [her] brushstrokes."

McCaslin also incorporates parenthetical statements in her poems—statements that serve as notes and afterthoughts, inclusions that might (and in some cases should) have been trimmed. Still, they demonstrate the doubt that haunts her intentions—what she calls the "precisely inexact" nature of her words—and show the studied nature of the work (McCaslin notes some of her research at the end of the book). Part of the research here also comes from her own travels to Provence, an attempt to engage Cézanne's motifs first hand. I am often distracted, however, by McCaslin's inability to "separate the story from the art," such as when she notes the "beatitude of skyping" both her brother and husband while in France, or when she reflects back on this time once she returns home to British Columbia. 

For me, McCaslin's three études—variations of the poem "Quantum Mountain"—anchor the book by showing her process of "poeming." Working through the variations, she economizes language, eliminating unnecessary words and manipulating spacing and breaks, to boost the potency of individual words. She also changes from past to present tense by the third étude, in part to render Cézanne's artistic process more alive—the poem becoming less an exercise in description and more an experience of witnessing. While exercises can often be tiresome, McCaslin's make for effective case studies, and they remind us that art, poetry, and painting alike, are living entities.