INFORMATION
Tour Home

Contact Us













Copyright © 2000
History of Racialisation Group
Victoria, BC CANADA
All rights reserved
This page last updated
17 July 2000

Contact the Page Maintainer
Hosted by
the University of Victoria

This site looks best with


Imperial Paradise?
An Alternative Walking Tour of Victoria, BC



Queen Victoria and Her Namesakes
---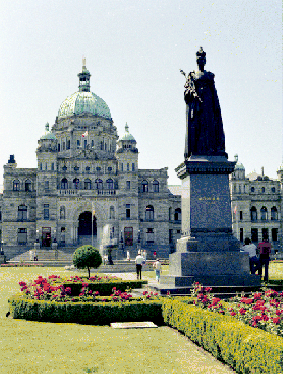 Queen Victoria's statute in front of the BC Legislature
Victoria R. I. 1837-1901
On the lawn of the Victoria Legislature stands a bronze-cast statue of a young Queen Victoria, not yet an Empress but interpreted in a very dignified manner.
Here, in a city named for her, she seems to have special significance. She seems especially at home here, and especially appropriate. But a glance at an atlas demonstrates that this is only a pleasant illusion. All over the fallen Empire there are other cities, with other Victorias who seem just as comfortably ensconced in their city landscapes.
It was during Victoria's reign that the small island of Britain came to have influence over a large part of the world, and statues of the queen went up to assert imperial presence as much as they did to celebrate Empire.
Victoria, Zimbabwe
Mount Victoria, Australia
Victoria Island, NWT, Canada
Victoria Park, ON, Canada
Victoria, Cameroon
Victoria, Guinee
Victoria, Seychelles
Victoria, Malaysia
Victoria, PEI, Canada
Victoria, Trinidad and Tobago
Victoria, Grenada
Victoria, Hong Kong
Victoria, Phillipines
Victoria, BC, Canada
Victoria, Australia
Victoria Falls, Zimbabwe
Victoria Island, Nigeria
Victoria Lake, South Africa
Victoria Lake, Australia
Mount Victoria, Myanmar
Victoria Point, Australia
Victoria Range, New Zealand
Victoria River, Australia
Victoria River, NF, Canada