The role of Lieutenant-Governor
"Hibernia, Scotia and Britannia have all produced sons who have held prominent places of power and substance in British Columbia. Henri Joly de Lotbinière was the first and only son of Gallia to hold a similar position." -S.W. Jackman in
The Men at Cary Castle
1


"There is no politics here... Politics are very weak- the word "party" seldom heard here."
-Charles Mair, 1894 2
The last few decades of the nineteenth century were one of great change for British Columbia. The colony had became a province of the Dominion of Canada in 1871 yet at the turn of the century, was still feeling both geographically and politically isolated from the rest of Canada. The political experience in British Columbia was in fact quite different from that in Eastern Canada; full male suffrage had only been introduced in 1876 and the idea of "responsible government" being implemented only a few years earlier.3 Yet British Columbians had high hopes for the twentieth century.
Unfortunately, the year 1900 brought about a rough start to the twentieth century in terms of politics. It was an "anarchical period of provincial politics."4 The political system in BC remained unstable, unpredictable and volatile until the introduction of party politics in 1903. From the time British Columbia entered confederation in 1871 until 1903, fifteen different governments would grace the political scene. Dr. Ed. Whitecombe argues in his short history of British Columbia that the young province was initially "handicapped by the inexperience of its politicians with their new political situation."5 The result of this political inexperience was a legislature run by "loose coalitions of like-minded politicians" instead of strong governement run along party lines.6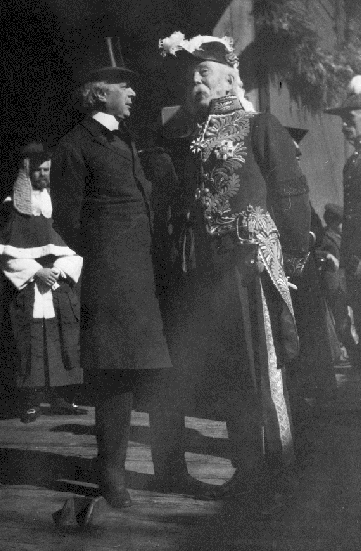 Lotbinière and Laurier
This is the political situation that Sir Henri Joly de Lotbinière was brought in to in the capacity of Lieutenant Governor. Because of his previous political experience and "fairness of mind, ability and other admirable qualities,"7 the then Prime minister of Canada, Sir Wilfrid Laurier appointed Lotbinière, a French politician, as the representative of the Queen and of the Dominion and gave him the difficult task of solving the crisis of politics in early 20th century British Columbia.
The role of the Lieutenant Governor of a province is to act as a representative of the British Crown and of the Dominion of Canada.
The Lieutenant Governor of a province's duties include giving assent to legislation, signing orders, calling and proroguing the legislative assembly, and perhaps most importantly, calling on individuals to form the government.
The Lieutenant Governor also preforms a variety of social functions which include hosting distinguished guests (ambassadors, politicians, royalty, etc.), giving tours, and conducting public formalities. The residence of the Lieutenant Governor, in fact, is used in addition to the Government House to host various banquets, dinners, balls, and formal functions for both the province's elite and important visitors.
Because there were no firm political lines in the Legislative Assembly in BC (and the resulting political instability), the Lieutenant Governor of BC often played a larger role in provincial politics than would be the case in the eastern provinces.8 In fact, the first Lieutenant Governor went so far as to sit in on the premier's cabinet meetings until, according to BC legend, the eccentric Amor de Cosmos refused to begin his cabinet until the Hon. Joseph Trutch left,9 a trend which continues to present day.
Sir Henri Gustave Joly de Lotbinière was commissioned as the seventh Lieutenant Governor of British Columbia on 21 June 1900. The men who preceeded him in this role were:
1. Joseph William Trutch, July 1871-June 1876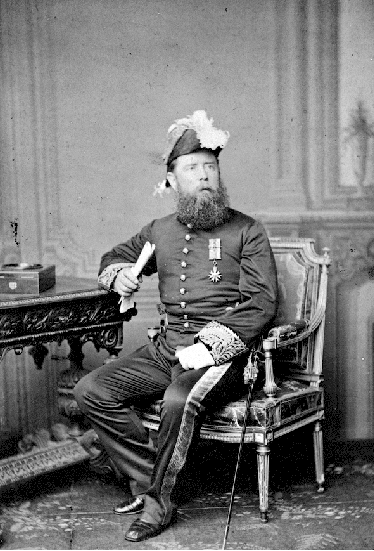 2. Albert Norton Richards, June 1876-June 1881
3. Clement Francis Cornwall June 1881-February 1887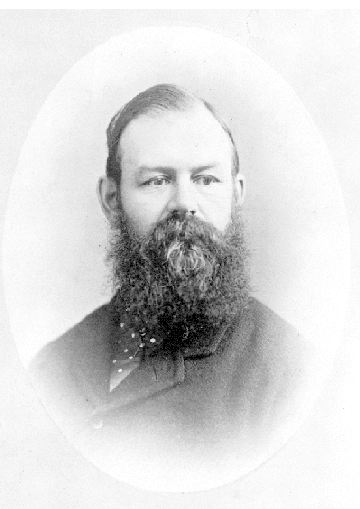 4. Hugh Nelson, February 1887- October 1892
5. Edgar Dewdney, October 1892- November 1897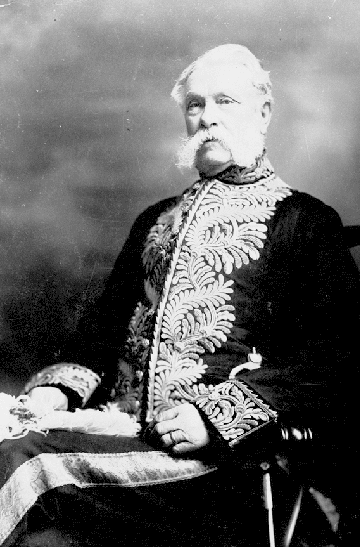 6. Thomas Robert McInnes, November 1897- June 1900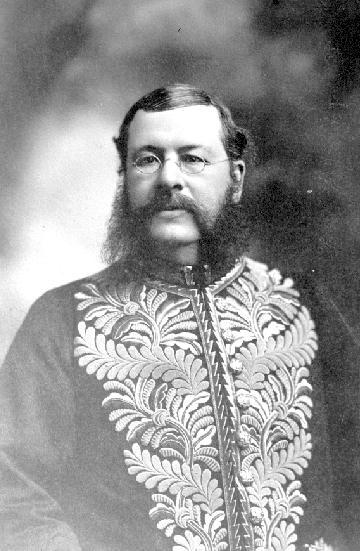 Of all the Lieutenant Governors of BC, Lotbinière was the only French man. Trutch, Cornwall, and Dwedney were all born in England, Nelson was Irish, Richards from Ontario, and McInnes from Nova Scotia.10
When Lotbinière accepted the position of Lieutenant Governor of BC, there was no instruction manual to serve as a guide on what exactly it was he was expected to do upon his arrival; up until the 1950s most Lieutenant Governors in BC improvised. Hon. Clarence Wallace, Lieutenant Governor of BC from 1950-1955 wrote:
"There had been five Governors before us in the colonial days and seventeen Lieutenant-Governors since the Province joined Confederation and no one of them had been favoured with any more information about his predecessors or what their worries or satisfactions had been, what battles they had fought or what dangers or adventures they had faced than he could pick up from the newspapers or than he could gain from conversation with students of history."11
Luckily, Laurier had made a wise decision placing Lotbinière as Lieutenant Governor of BC. During the first year of his term as Lieutenant Governor, Queen Victoria died. Lotbinière conducted the official ceremonies as the city mourned the beloved monarch whose name they bore. That same year, Lotbinière hosted the Duke and Duchess of Cornwall and York, who would later become King George V and Queen Mary. Unbeknownst to the visiting royalty, while playing host, Lotbinière was also dealing with his first political crisis: the attempted resignation of Premier James Dunsmuir. In a letter to his son dated 7 October 1901, Lotbinière wrote:
Je suis reconnaissant en pensant que tout s'est si bien passé pendant cette visite à Victoria. Tout le monde paraît satisfait. Nous n'étions pas sans inquiètude.

Et maintenant nous avons une crise politique qui a été ajournée jusqu'après la visite royale; resignation de deux ministres, l'un d'eux n'a pas pu se faire reélire... Je ne sais pas comment tout cela va se terminer. 12

I am thankful to think that everything went so well during this visit to Victoria.

Everyone seemed pleased.

We were not without worry.

And now, we are faced with a political crisis that was held back until after the royal visit: the resignation of two ministers, one could not have been re-elected... I am uncertain of how all of this will turn out.

(my translation)

During the rest of his term as Lieutenant Governor, Lotbinière would also host several banquets (two notorious ones adding up to over a thousand dollars in costs,13
open the

Canadian Exposition

(1905), as well as receive

Prince Arthur

in 1906 as his last function in BC.
14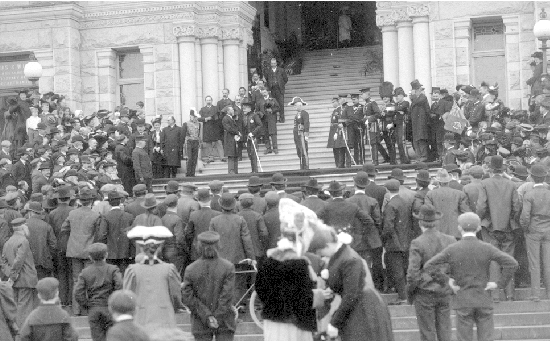 Visit of Prince Arthur to the Legislature, 1906
Endnotes (click on number to return to spot in text)
1. S.W. Jackman, The Men at Cary Castle: A Series of Portrait Sketches of the Lieutenant-Governors of British Columbia from 1871-1971, (Victoria, BC: Morriss Printing Company Ltd., 1972), 75.
2. Jean Barman,The West beyond the West: A History of British Columbia, Revised edition. (Toronto: University of Toronto Press, 1991), 102-103.
3. Barman,The West beyond the West, 101.
4. William Rayner, Images of History: Twentieth Century British Columbia through the Front Pages, (Victoria, BC: Orca Book Publishers, 1997), 10.
5. Dr. Ed. Whitcomb, A Short History of British Columbia (Ottawa: From Sea to Sea Enterprises, 2006), 23.
6. Whitcomb, A Short History of British Columbia, 30.
7. British Columbia Archives (hereafter BCA)Political correspondences of John Herbert Turner, MS-0471, file 114, Wilfrid Laurier explains appointment of Lieutenant-Governor, 5 July 1900.
8. Marcel Hamelin, "Joly de Lotbinière, Sir Henri Gustave," in Dictionary of Canadian Biography Online, http://www.biographi.ca/EN/ShowBio.asp?BioId=40931&query=
9. William Rayner, British Columbia's Premiers in Profile: the good, the bad, and the transient. (Surrey, BC: Heritage House Publishing, 2000), 29; BarmanThe West beyond the West, 101.
10. D.A. McGregor, They Gave Royal Assent, (Vancouver: Mitchell Press Ltd., 1967), xii.
11. McGregor, They Gave Royal Assent, ix.
12. BCA, Mflm 11A (2) Sir Henri Joly de Lotbinière correspondence outward, 7 October 1901.
13. BCA, Mflm 11A (2) Sir Henri Joly de Lotbinière correspondence outward, 5 November 1901.
14. BCA, Mflm 11A (2) Sir Henri Joly de Lotbinière correspondence outward, 22 March 1906.
Click the images to view them in context.